#MeetTheArtist Jonas Lund
During Art Rotterdam you will find the work of hundreds of artists from all over the world. In this series we highlight a number of artists who will show special work during the fair.
Modern solutions require modern problems
Just before the pandemic, Lund gave a presentation about his work in Ljubljana. It featured, among other things, trivial inventions for modern inconveniences, such as a magnifying glass for the small screen of your mobile phone. Or a mobile projector that allows you to share your screen with others in a decent way. The audience laughs. Finally, Lund shows an apparently equally odd device that manipulates your phone's pedometer by means of a constant rocking motion. Why was this device invented, you ask? In China you get a discount on your health insurance if you demonstrably exercise a lot. Modern solutions require modern problems.
It is not surprising that Lund (SE,1984) has an eye for such inventions, because a number of central themes of his work come together: power relations, data analyses and algorithms, and how to circumvent them.
FOMO
The above themes are already reflected in early exhibitions such as Fear of Missing Out (Showroom Mama, Rotterdam, 2013). One of the works is a photo collage featuring the 100 most important curators. At least, according to Lund's algorithm. According to Lund, his knowledge of the who-is-who would give him an edge over the average collector, he would be more aware of trends and appreciations.
At the beginning of his career, Lund, who was educated in the Netherlands, was sometimes accused of making art about art, including jokes that only insiders understand. Lund's work is certainly playful and funny, but his message is broader. In 2019, for example, he set up the London Photographer's Gallery as a twelve-person editorial team for making propaganda and fake news. Here too, Lund was interested in the data collection and Cambridge Analytica's anything but neutral algorithm, which mainly concentrated its efforts on the leave voice.
Strings Attached
It is not a coincidence that Lund initially ended up in the art world; it's a small, uncluttered version of the real world. According to Lund, the art world has a classic top-down structure, with a relatively small group of people at the top deciding among themselves what is good art. Underneath is a broad layer of gallery owners, collectors and artists.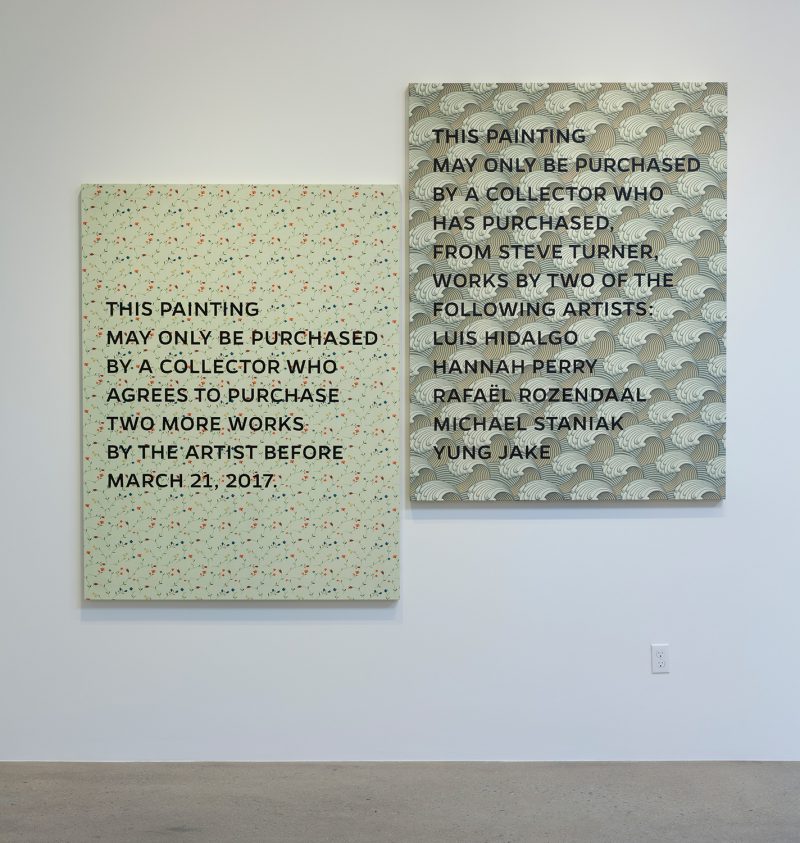 The power relations between the players in the bottom layer are discussed in the series Strings Attached (2015). Although the artist is the producer, he has little to say about how his work is marketed. Gallery owners can decide not to sell work to a collector no if the collector has not previously purchased a work from the gallery or only sell if a customer immediately buys two works or oblige the buyer to donate one of the purchased works to a museum. Lund circumvented these practices by stating the conditions on his canvases.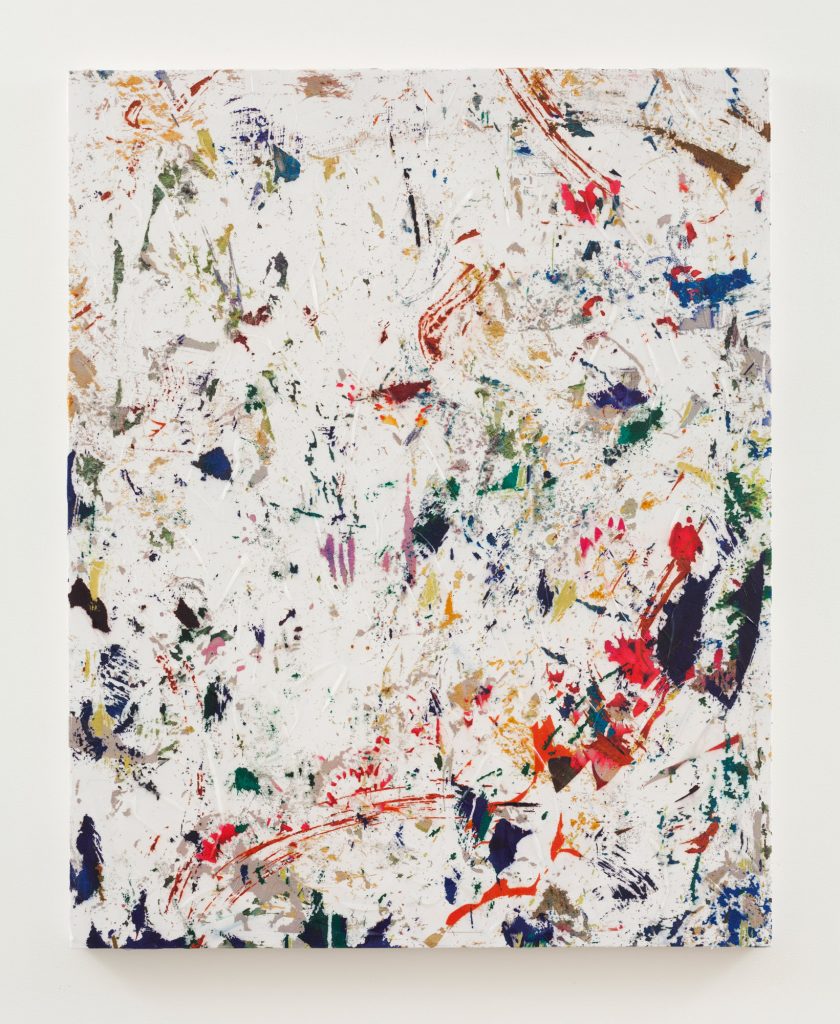 Invest in Jonas Lund
Of course, Lund also saw the possibilities of crypto currencies early on. In 2018, he developed his own Jonas Lund Token, including a daft corporate logo and advertising materials. At art fairs, the booths of his gallerist therefore looked exactly like those of a financial services provider.
This may seem like a far-fetched joke, but data collections and power relations play a major role here too. You can get JLTs by buying one of Lund's work or by providing him with a service, such as inviting him to a lecture or advertising his work. Lund set up his token in such a way that owners of the JLTs are de facto shareholders in Lund's artistic practice. He regularly puts questions to his shareholders and their advice is binding.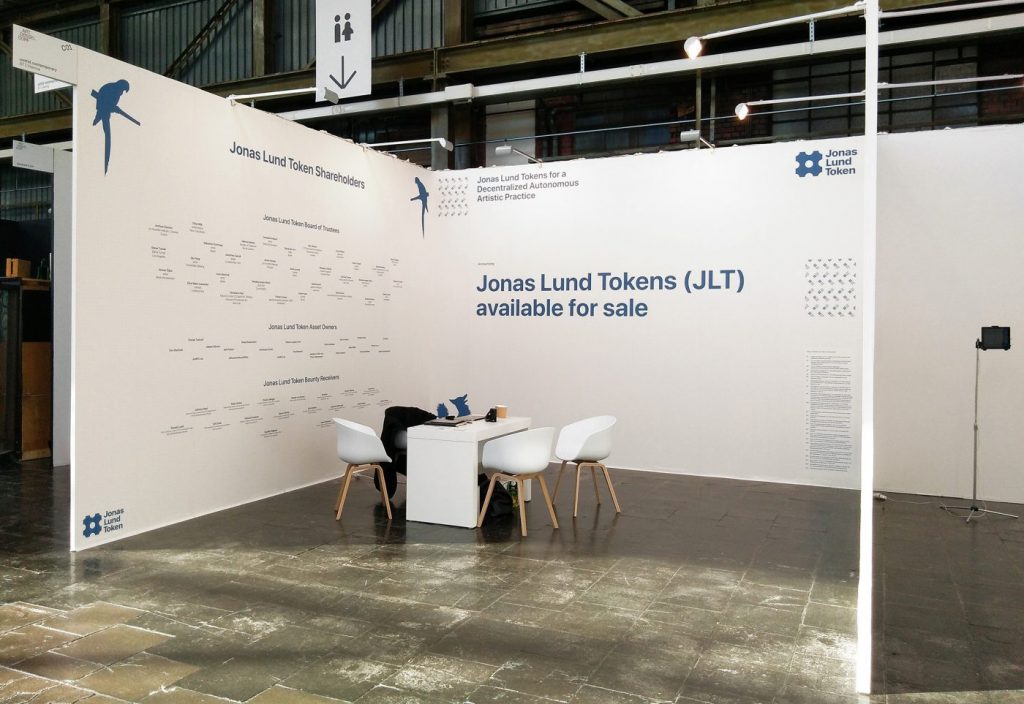 For you, by you
At Art Rotterdam, the Milanese gallery Bianconi is showing the work of this Swedish multimedia artist from the For you series from 2021. Lund created this series in response to the hyper-personalization that takes place on social media. On your favourite platform you are continuously served new content that matches your taste with the aim of letting you spend more time online.
In the works of this series, which include elements of recently auctioned well-known works of art, Lund translated this principle into a series of works that continuously adapts on the basis of algorithms. Just like on Instagram and Tiktok, Lund's algorithms analyse the way the viewer relates to the works. As a result, the continuously changing compositions gradually match the behaviour of the viewer more and more. Because you, as a viewer, put together the works yourself, just like your social media feed, you become more and more entangled in your own bubble in which you never see anything unwelcome again.
Jonas Lund's work can be seen in the Solo/Duo section, at Galleria Bianconi.