#MeetTheArtist Philip Vermeulen
During Art Rotterdam you will find the work of hundreds of artists from all over the world. In this series we highlight a number of artists who will show special work during the fair.
The kinetic work of Dutch installation artist Philip Vermeulen
Philip Vermeulen is known for manipulating and isolating — and then maximizing or minimizing — physical phenomena such as light, sound and movement. This gives rise to what he calls 'hypersculptures': kinetic sculptures that move so quickly that their physical properties seem to transform before your eyes. With his latest installation 'Fanfanfan', which can be seen in the Prospects section, Vermeulen responds to a period of relative stagnation. For this installation, he bends bundled white light into thousands of pieces of color, using fans that move so fast that the projected white light is split and reflected multiple times.
With his practice, Vermeulen builds on the tradition of experimental kinetic art of art movements such as the ZERO movement, but also light art, op art, sound art and audiovisual art. Like many other artists from these movements, Vermeulen is interested in the ways in which our eyes translate images for our brain, and vice versa. In his installation 'Flap Flap', for example, we see a canvas that flutters so quickly that it seems to stand still. The effect is almost hypnotic. In other installations he uses stroboscopes to create visual illusions.
But Vermeulen's experimental installations are characterized by movement and sound. Sometimes so hard that it becomes overwhelming. As a spectator you experience conflicting feelings: the works are aesthetic and elusive, but at the same time sharpen all your senses. There is always a certain danger lurking, because what if the device suddenly does something unpredictable? If you allow yourself to be sucked into that field of tension, the installations can even have a mind-expanding effect. Vermeulen consciously seeks out that field of tension: the border where beauty, fear and destruction overlap. His installations sometimes seem dangerous, such as his graduation artwork, in which tennis balls were fired at 150 kilometers per hour against a wooden sound box. Admittedly in a safe way — provided you as a visitor followed the directions carefully — but the tension and potential danger must have been clearly palpable.
Vermeulen: "My installations are all quite large and they are all about a kind of existential fear: when does the machine go so fast that you no longer trust it. When does it get visually so hardcore that you actually want to leave, but at the same time stay attracted."
Although his installations sometimes seem to rage on in an uncoordinated way, there is indeed a choreography worked out in detail, as the artist himself refers to. An enormous amount of research precedes the installations and the artist is currently studying machine learning, among other things.
Vermeulen initially studied at the Film Academy for a while, followed by two years at an art academy, where he found the art history classes particularly traditional. He was only really in the right place when he ended up at the ArtScience Interfaculty, an interdisciplinary partnership between the Royal Academy of Art (KABK) and the Royal Conservatoire in The Hague. There was plenty of room for experimentation here and during this period Vermeulen mainly explored the limits of his materials. He graduated summa cum laude in 2017.
In 2020 Suzanne Swarts, director of Museum Voorlinden, nominated him for the Volkskrant Visual Arts Prize 2020. Swarts: "Philip Vermeulen's work is about looking, but even more about feeling. Vermeulen makes compelling performative installations in which he stimulates all the senses with sound, light and movement. In each work, he once again allows science, technology, visual arts and theater to merge into unforgettable sensations with great ease." In the same year, Vermeulen was also nominated for a Golden Calf in the category 'Best Interactive 2020'.
Vermeulen's installations have previously been shown in the Stedelijk Museum in Amsterdam, during Into the Great Wide Open, in the Berlin club Berghain, during TodaysArt and in the Stedelijk Museum Schiedam and Rijksmuseum Twenthe.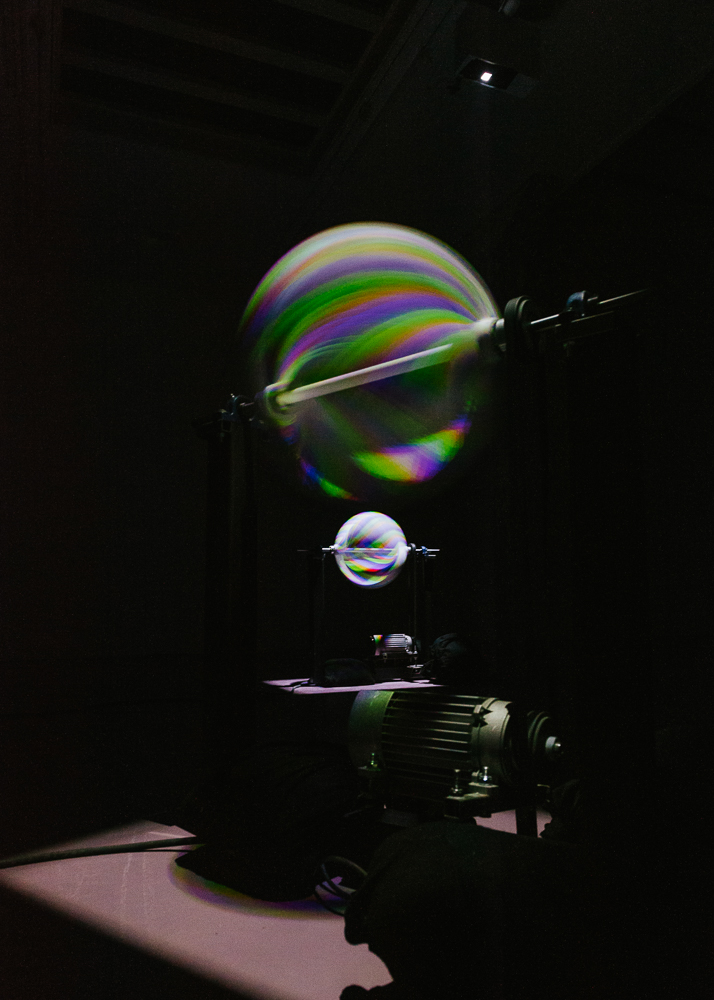 The work of the Dutch installation artist Philip Vermeulen can be seen during Art Rotterdam not only in the booth of No Man's Art Gallery (Main Section), but also in the outdoor presentation around the Van Nelle factory and in the Prospects section. For ten years now, the Mondriaan Fund has presented work by artists who recently received a contribution for the start of their professional practice.