A look back with… Erik Mattijssen, the winner of the NN Art Award (ánd the NN Art Award Public Choice) 2021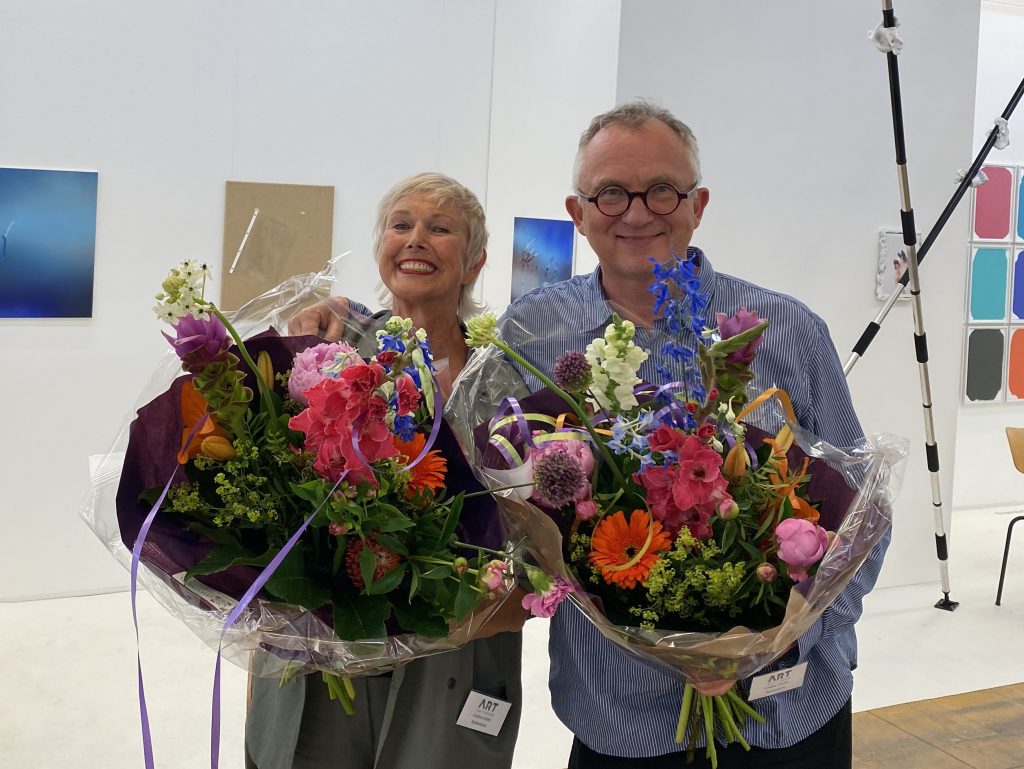 During the May edition of Art Rotterdam, the NN Art Award will be presented for the sixth time: to a contemporary art talent with an authentic visual language and an innovative angle. NN Group has been a partner of Art Rotterdam since 2017 and has been awarding an incentive prize every year since then. An annually changing jury of art professionals makes a selection of four promising talents, from which a winner is ultimately chosen. Since last year, these four nominees also have a chance to win a public choice award, so that regular visitors to the fair can also cast their votes. The conditions are clear: the nominated artists have all been trained in the Netherlands and all show their work during Art Rotterdam. Each year, NN Group buys one or more works from the four nominees for its corporate collection. Last year, the NN Art Award (worth €10,000) and the NN Art Award Public Choice (worth €5,000) were both won by the Dutch artist Erik Mattijssen, who is represented by Cokkie Snoei. We interview him to find out what the prize has meant to him and how he has experienced the past period.

How did it feel like to win the NN Art Award?
Actually, the nomination that preceded it was the most exciting. Knowing that your work has been noticed, in the midst of so many colleagues, was flattering and uplifting. By now, I know what I'm worth, but it remains a strange profession that is accompanied by many uncertainties. These are often questions that I tend to ask myself in the studio: are the steps that I take exciting enough, is it not too indebted to other people's work, or is it perhaps too careful? When you get this kind of recognition, some of that melts away. Moreover, I was in good company with the three other nominees: Priscila Fernandes, Lilian Kreutzberger and Claudia Martinez Garay. Perhaps the greatest luxury is the spacious, tall and well-designed NN Art Award stand, right in the middle of the fair, as well as the opportunity that this presented: to create a beautiful exhibition together. I am grateful to Cokkie Snoei, who had the courage to nominate me while I had become accustomed that such an award was more for young and up-and-coming talent. I found that encouraged colleagues of my age; that your work can also be valued on other grounds. When I also received the audience award on top of the NN Art Award, that was almost too much of a good thing, but of course I was very happy with it.

What has the past year been like for you, in terms of all the lockdowns? Do you notice that it influences your mood and/or your work in a substantive way?
I felt especially privileged that I have a job that I can continue, independently of others. Imagine playing in a band or making theater or having four school-aged children. Initially, it increased my focus, without any temptations to distract me. But I have to say that after the last lockdown in December, I noticed that I was suffering from the lack of shine to our lives. Amsterdam, the city I live in, is duller without all the hustle and bustle you were used to. Everyone is doing their best, but it's still sad, all those cafe chairs on top of the tables, windows taped up and deserted streets. In my work, I have always wanted to offer a counterbalance, but there is undeniably a greater melancholy creeping in.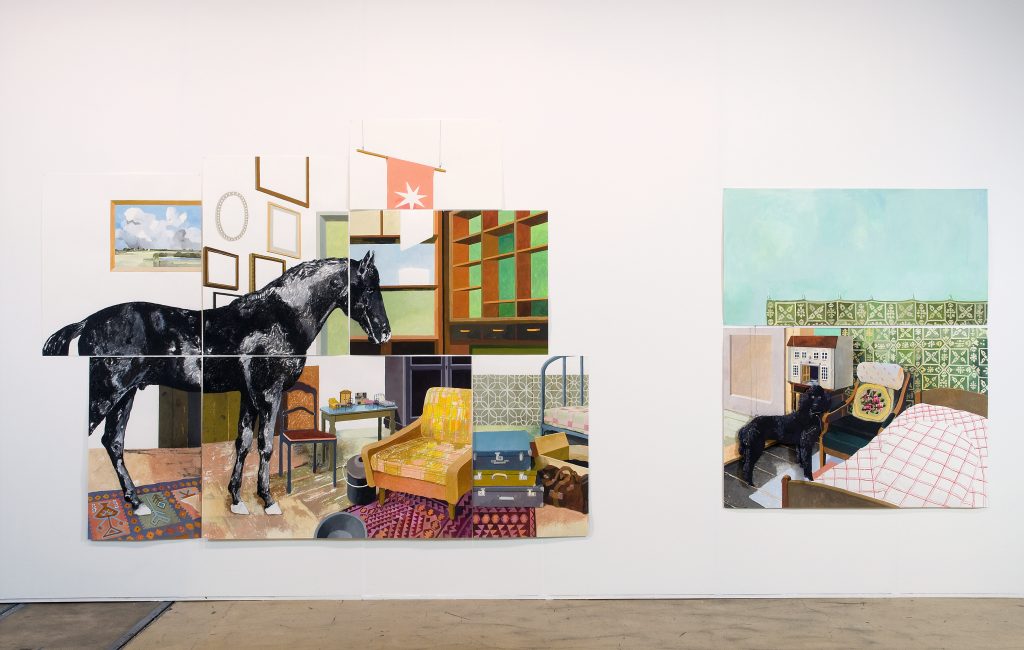 How did the works you showed during Art Rotterdam come about? Are you following a specific process?
During the six months prior to the fair, I was able to work in a pleasant studio in Berlin, from Livingstone Gallery Projects. That city was also locked down, so I had to come up with my own kind of rhythm. That is how I got to start every morning by painting a small gouache that had to be finished before noon. It turned out to be toys, not too complicated, a subject I had initially saved for the establishment of a large, overcrowded toy store. I made over a hundred, which we exhibited on a signle wall in Cokkie Snoei's gallery booth. I also continue to work on large, composite scenes, interiors in which something takes place that you can't quite get a grip on. There were two: Zum Abschied, based on a text by writer Judith Herzberg and Des Pudels Kern, inspired by Goethe's bedroom in his house in Weimar. The fact that both new works were immediately shown to a large audience in the NN Art Award booth was a great encouragement and a nice addition to what we were able to show in the gallery's stand.
Are there any particular things that you have been able to achieve thanks to the prize money? What did winning the prizes mean to you in concrete terms?
It often happens that I spend money that actually isn't there yet, with full confidence that things will work out. In Berlin, for example, I already decided that the toy series could become a nice book, and that was ultimately financed for a large part with the prize money. Receiving the prize in the Art Rotterdam week also led to an interview on NPO radio 1 in the program Kunststof and I immediately saw my followers on Instagram increase in number after that! All in all, I felt like I was floating a bit that week.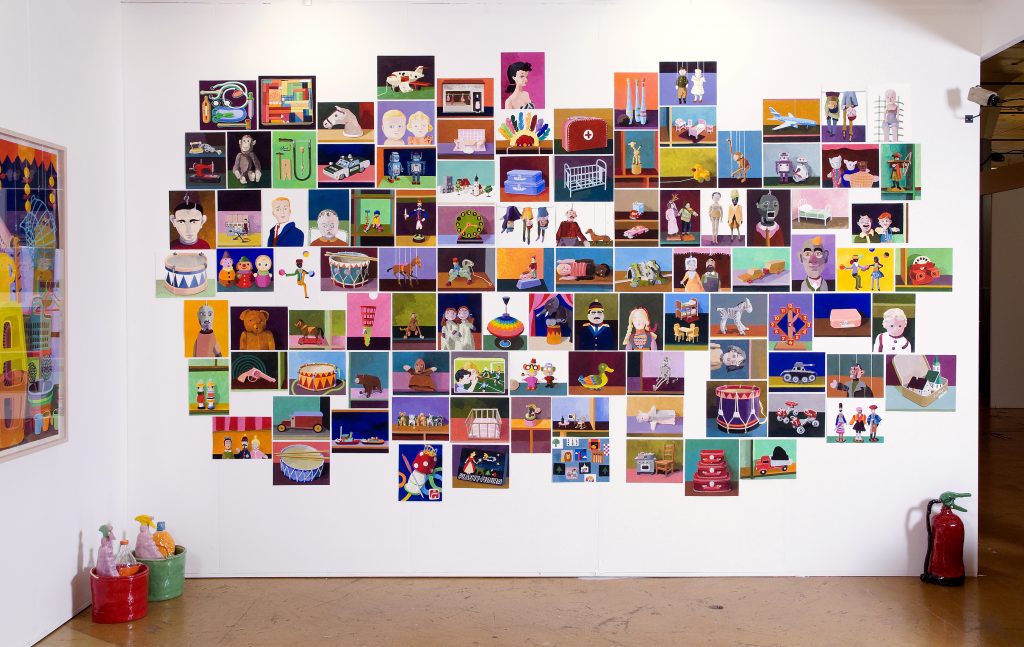 What is your ultimate advice for young artists?
That may sound obvious, but it isn't: I would advise them not to chase anything: to make sure that the work you create is truly yours. That you don't care too much about the criticism of others, or about what happens to be fashionable at that point in time. It's important that you are the only one who decides which way to go. I would also like to recommend that they take the initiative themselves, to make sure that they exhibit their work somewhere and not just wait for gallery owners to start moving.But above all: the most important thing is to keep working, to take good care of yourself, to isolate yourself. I have seen too many former students of the Rietveld Academy — where I taught for a long time — who let other things take precedence. That their drive and passion disappeared and that the pleasure diminished simultaneously. And that's a real shame.

As the winner of the previous edition, you can take a seat in the jury during this edition. What is it like as an artist to judge the work of other artists?
It was particularly nice to be part of such a competent and passionate jury, who made a point of careful viewing and speaking. After much deliberating and weighing, we came to a beautiful, diverse group of four nominees. It remains quite arbitrary of course, comparing apples and oranges. Winners and losers are uncomfortable categories in art.