#MEET THEARTIST: Joana Schneider
During Art Rotterdam, you will see the work of hundreds of artists from all over the world. In this series, we highlight a number of artists who will show remarkable work during the fair.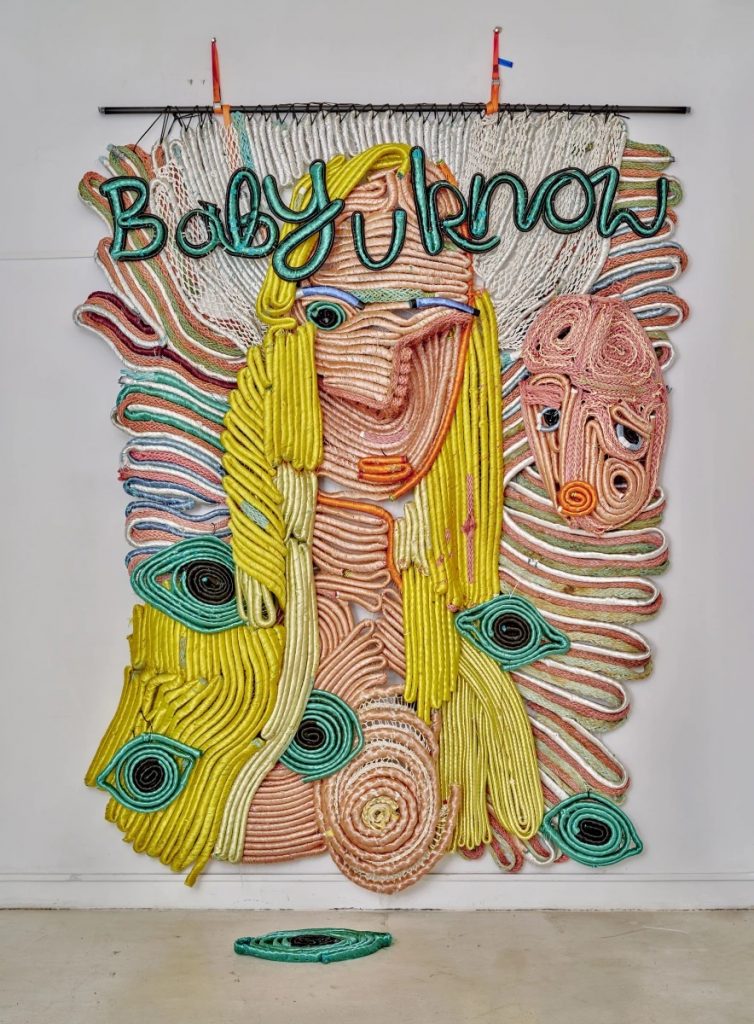 When the German artist Joana Schneider moved from Munich to The Hague, she immediately fell in love with the sea, purely because she had rarely seen it before then. She started studying fashion at the Royal Academy of Art, but she wasn't sure yet where she wanted to end up. When she discovered the 'Textile and Fashion' department at the same institute, the pieces started to fall into place and in 2018, Schneider graduated as a textile designer. In the harbour, she became more familiar with the nets that were being used by the fishermen. She was surprised to find that these ropes and nets are only in use for two weeks, only to be thrown away. She decided to specialise in processing the heavy, stiff material and has since developed various techniques for that. She enlisted the help of fishermen and craftsmen in Scheveningen and Katwijk, who introduced her to their unique knotting and weaving techniques. She then combines these techniques with contemporary techniques and other crafts such as traditional roofing with thatch. For her graduation project at the KABK, Schneider received the Keep an Eye Textile & Fashion Award.
Schneider's work conveys a deep appreciation for craftsmanship, for the creativity of people who work with their hands. Indirectly, she also plays with gender norms, by combining "feminine" materials (textiles) and physically demanding "masculine" crafts. The raw yet flexible material is a guiding factor within the work. She makes large works of rope and recycled yarn, a labour-intensive process. Some works require as many as thirty thousand stitches! When Schneider edits the material, her background in textile design comes to the fore. She'll use techniques such as embroidery, passementerie and weaving tapestries. Her practice is also developing in a technical sense: Schneider has been experimenting with special machines for years. Within the artistic process, there is enough room for a certain spontaneity and intuition.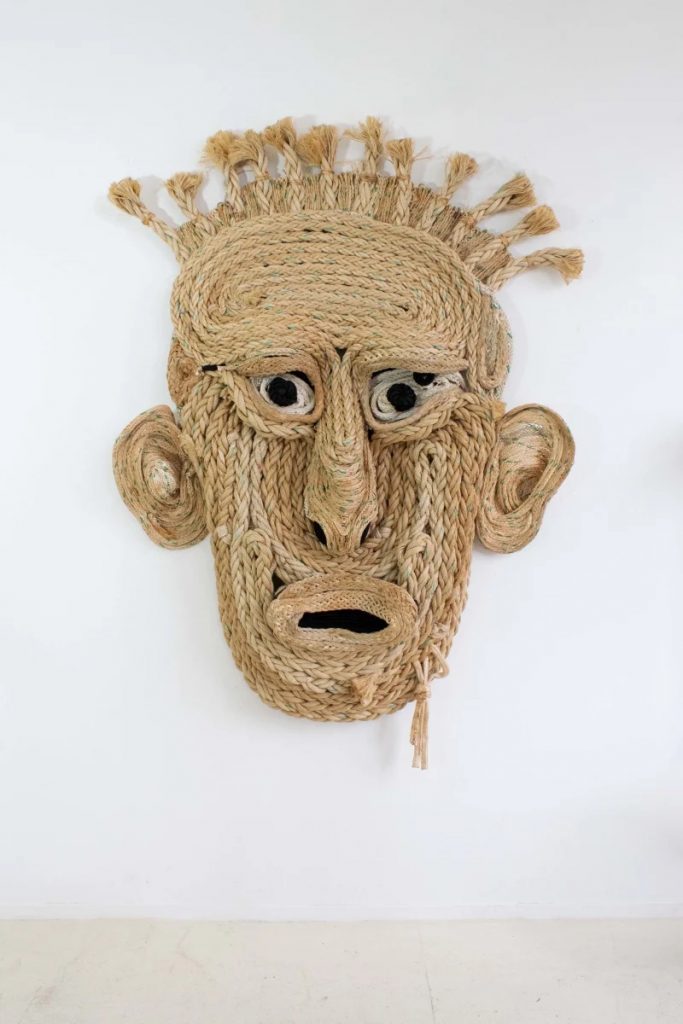 Schneider's brightly coloured, theatrical and occasionally eery faces immediately evoke a reaction in the viewer. Sustainability is a keyword in her practice, and she makes a concerted effort to keep her ecological footprint as small as possible, while also taking the transport of the large-scale installations into account. The fragrant material of her works still bears the traces of the sea. That way, the artist is able to ask questions about environmental pollution and our own ecological footprint. By reusing the nets and ropes, she ensures that there is less waste in the sea, waste that could otherwise pose a danger to the marine animals that could get entangled in them.
For her newer work, Schneider is inspired by a multitude of sources. During Art Rotterdam, she shows a work in which she speaks out about the motherhood style of certain influencers in the digital age, while she is visually stimulated by the paintings from a church in Munich. Sometimes, Joana's work is combined with that of her sister Leonie Schneider, who is also represented by Rademakers Gallery. For some works they were both inspired by the same subject: their grandmother's house in Bavaria.
Schneider's work has been included in the collections of Deloitte, the Stedelijk Museum Amsterdam, Museum Aalborg in Denmark and the Lakeside Art Collection, a collection that is currently on display (in part) in a rented compartment in the depot of Museum Boijmans van Beuningen. During Art Rotterdam, Joana Schneider's will be shown in the booth of Rademakers Gallery and in the Prospects exhibition of the Mondriaan Fund. For the 10th time in a row, the Mondriaan Fund presents the work of 88 emerging artists here. In 2020, all of these artists received a financial contribution from the Mondriaan Fund to make a start in their career.