#MeetTheArtist Guido van der Werve
During Art Rotterdam, you will see the work of hundreds of artists from all over the world. In this series, we highlight a number of artists who will show remarkable work during the fair.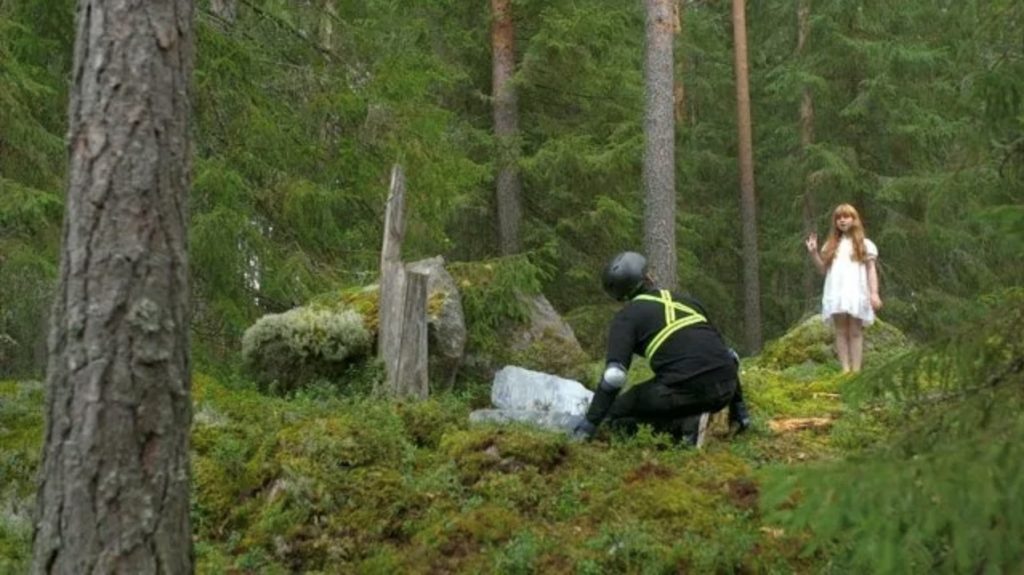 Some stories are so good that it is probably best not to check the details or facts too closely. In a way, the same can be said of the poetic work of Dutch video artist Guido van der Werve. His work is well worth the effort, but as soon as you try to explain what you are seeing, it eludes you. Five years after a serious traffic accident, he is back with his first feature film. At Art Rotterdam, Grimm Gallery will be presenting part of it: Act 10 – spice of life, death drive.
In his films, Van der Werve explores the limits of the physically possible. He has run several marathons around his house in Finland, completed a triathlon of more than 1,700 kilometres in order to bring soil from the garden of his childhood home to the final resting place of Chopin, his favourite composer, in Paris, and in a single day, ran from New York to Valhalla (NY) where Rachmaninov is buried. He also ran a marathon in under three hours – a major achievement. Until 2016, Van der Werve was able to incorporate all his interests in his films. But that spring, he was involved in a serious traffic accident in Berlin.
After a month, Van der Werve (NL, 1977) awoke from a coma and the long recovery process began. Unwittingly, he had trained himself to withstand the impact of such a blow. The artist vanished from the public eye for five years while working on his first feature film. Nummer achttien – the breath of life is about the rehabilitation process in which he had to relearn everything – from walking to talking and from playing chess to playing the piano – but above all, had to become reacquainted with himself.
The full-length feature film will premiere in theatres in early September and will consist of 12 self-contained musical video artworks. At Art Rotterdam, Grimm Gallery is showing Act 10 – spice of life / death drive in which the artist contemplates suicide, mourns the death of his father and reflects on the loss of the planet. While looking for mushrooms in the woods around his house in the Finnish countryside, Van der Werve finds two flat stones on which he engraves his own Ten Commandments. For example, every race and sexual orientation are equal, education, sports and culture must be freely accessible to everyone, people have no ownership rights over flora and fauna and happiness is overrated. He places the stones on the grave of his father, who passed away in 2013.
Van der Werve gained international fame with films in which he records his performances. In them, he addresses themes such as loneliness, uprooting and homesickness, the futility of existence and the insignificance of man in relation to nature. Nummer achttien is a highly personal project, but considering Act 10, it is also typically Van der Werve, with music performed on the spot by an orchestra and choir, gallows humour and themes such as our relationship to nature and death.
The Icebreaker
In 2007, Van der Werve made his breakthrough with Nummer acht – everything is going to be alright. This ten-minute film is about an icebreaker approaching us from the distance on an endless expanse of ice. Van der Werve walks right in front of it with a stoic look. You can hear the ice breaking and the ship's engine roaring, but the lack of further reference points makes it difficult for the viewer to determine exactly how many meters are between Van der Werve and the bow of the icebreaker.
It is an iconic image that makes you watch with bated breath. Behind Van der Werve, the world collapses and if he does not keep moving, he is bound to collapse with it. Add to this the extremely austere camerawork, consisting of a single shot that only registers what is happening at a great distance, so that you immediately realise that Van der Werve is facing this ordeal all alone – and by extension, the rest of us.
A five-second idea
The ideas for his films often come to him out of nowhere and from a certain state of mind. So, don't expect a conclusive argument or iron-clad logic from Van der Werve. On the contrary, his work can best be described as romantic or poetic: if you try to fully understand it, it will elude you and you'll ruin it. In a recent interview with the Dutch daily newspaper NRC, he said, "I am not a verbal person, but I am conceptual. And by conceptual I mean apophenia, which means that I see parallels or patterns between things that aren't there. Often a simple five-second idea underlies a work. Such an idea originates from a certain intuitive state of mind. In Finland, I once hung over the edge of a ferry and saw the ice break. It was not the best time in my life and I was in a dystopic mood. I wondered what it would be like to walk on that breaking ice. That's how Nummer acht was born."
Although the ideas for his films arise in a few seconds, their implementation often takes quite a lot of time. To settle the eternal question once and for all of whether his work is performance or video art, he decided from his very first film to hire a professional film crew. This is part of the reason why this film is still rock solid 20 years later.
Another constant in his films is the use of classical music. Orchestras are regularly featured in his work, which not only stems from his love of music from the Romantic era, but also because, according to Van der Werve, music has a more direct emotional effect on the audience than images. "To me, music is a way to make my work poetic. I want to create an atmosphere and I absolutely do not want to verbally explain what my work is about. It's not rational decisions I make, but something intuitive. I consider it the artist's job to raise things to a higher intuitive level." Van der Werve has been composing the musical scores for his films since 2007.
Nummer twee
Van der Werve's films are certainly not all doom and gloom because they also rely on irony and gallows humour, such as the small advertising plane trailing a banner with the text It was not enough in Nummer vier or the monotonously recited short text at the start of Nummer twee: In the morning I can't get up, in the afternoon I am bored, in the evening I am tired and at night I can't sleep.
Van der Werve wrote the text while studying Russian in Saint Petersburg. For a homework assignment, he had to write a personal ad. The result was not very appealing. That afternoon, he witnessed a fatal car accident, and in the evening, he attended a ballet performance. He incorporated these events into a film that takes place at a single location: the street in which he grew up.
For Dutch viewers, the contrast between the fatal accident, classical ballet and completely interchangeable street with buildings from the 1970s is immediately clear. There's something absurdist, magically realistic, about it. A traffic fatality and a ballet, death and beauty in a place where nothing seems to ever happen, a place synonymous with predictability and boredom.