Outdoor artworks at Art Rotterdam 2022
Vriend van Bavink | Teun Castelein
The Totem project by artist Teun Castelein is a response to the far-reaching regulation of our public domain with a multitude of rules and instructions. The project is an experimental research to find some space for the artistic within our controlled environment, for some free jazz on the beaten track.
The series of traffic signs will be placed in your street after purchase. Plates can also be ordered separately.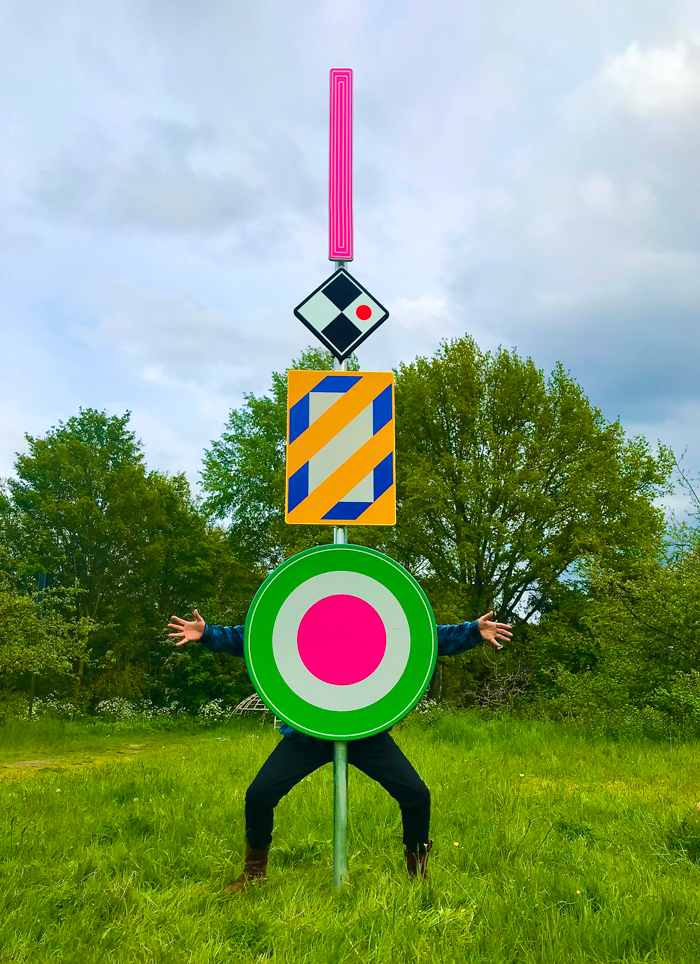 Martin van Zomeren | Paul Geelen
Mothership (…) is a large suspended ceramic sculpture that accumulates over a stretched period of time and descends from an immediate fusion between a series of contradictions and imbalances; an anecdote and the visual associations between a Snail Shell and the mutations of the hair on the Buddha's Head and Uṣṇīṣa.

In addition to the direct impact - or by rapprochement, some closer tensions between formal, abstract and semantic associations - the 'performative' presence of living snails on the two bodies is characterized by a chemical reaction between the bronze glaze and the soft body of the snail.

These traces - leaving an iridescent etching effect and a permanent mark - reveal a colourful potential and transform the snail from a temporary bit player into a humble protagonist, protector and martyr at the same time.

Note: A snail is able to naturally adapt and protect itself against more severe conditions.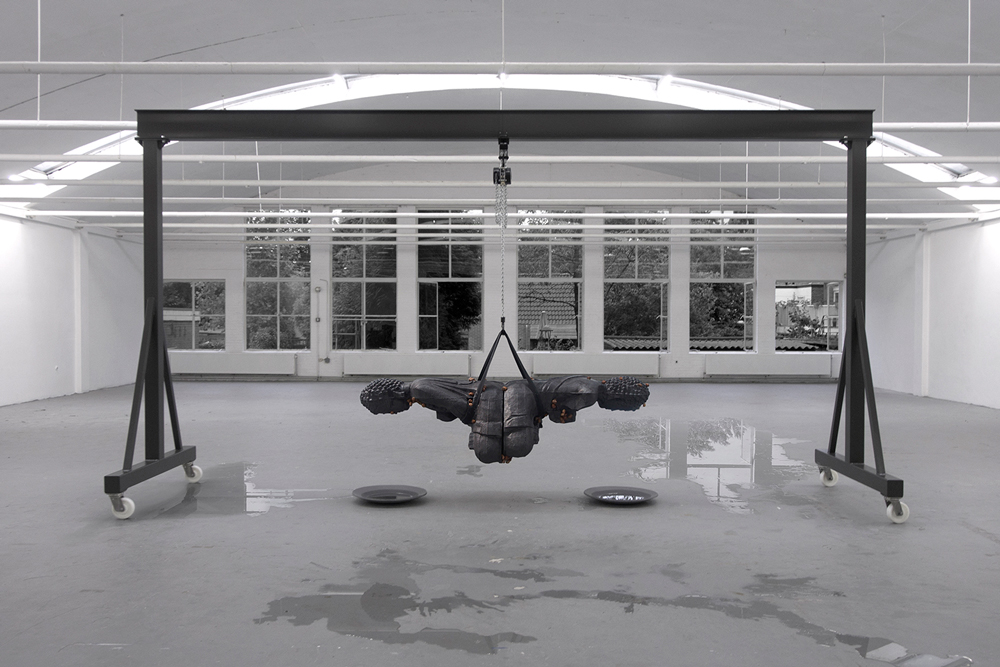 Mondriaan Fonds| Wiebe Bouwsema
For Wiebe Bouwsema, boundaries or limitations are a recurring theme: between the material and the immaterial, between interior and exterior spaces, between the actual and the virtual worlds and between man and nature. He brings these contradictions together in his work, allowing them to flow into one another, cancelling them out as well as emphasizing them. You can see it as oppressive, as dark, but also as quiet and poetic, as figures who – like Michelangelo's Prisoners – still have to free themselves from their material.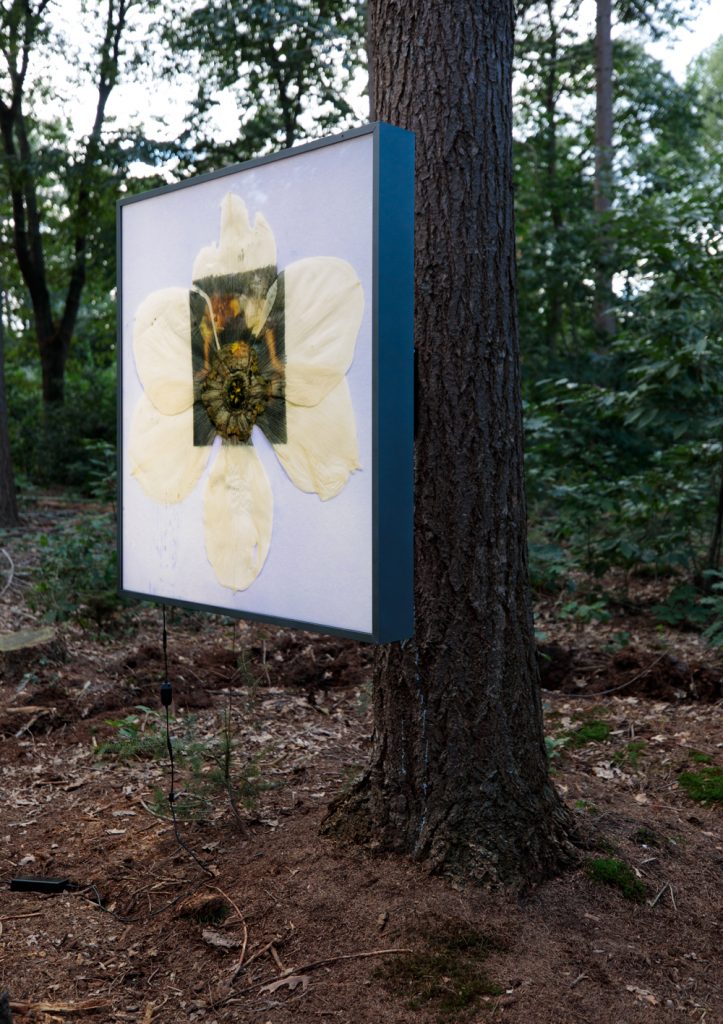 Opperclaes | Onno Poiesz
The blues
With the blues, Onno Poiesz welcomes the public. The work is meant to be festive, but is also a reference to war and pandemic, or contemporary "blues" that dominate the beginning of 2022.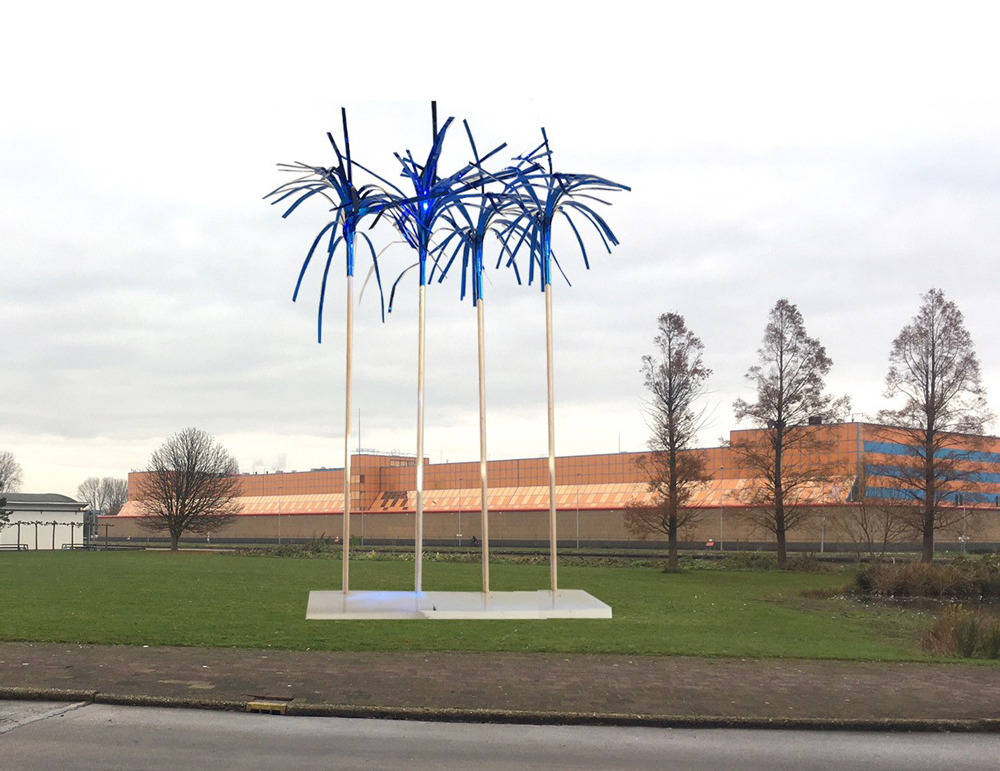 NEST | Eugenie Boon

The Pawns that Wandered in Promised Land is an installation which creates an analogy between the physical and the spiritual, fused by references of Hebrew literature, philosophy and boardgames.
"The Promised Land" in Hebrew literature expresses an image of a restored homeland that brings salvation and liberation and is understood as a goal to be reached. With this work Boon suggests that the Promised land is not only a physical place but can be understood as a state of mind- with the brain as the main battlefield, figuratively represented as a board game and the pawns as either reactive or proactive in their approach to this understanding.
With this installation Boon reflects on what can be seen and experienced versus that which cannot be seen yet still experienced. The experience is constant while the components around change through visualization.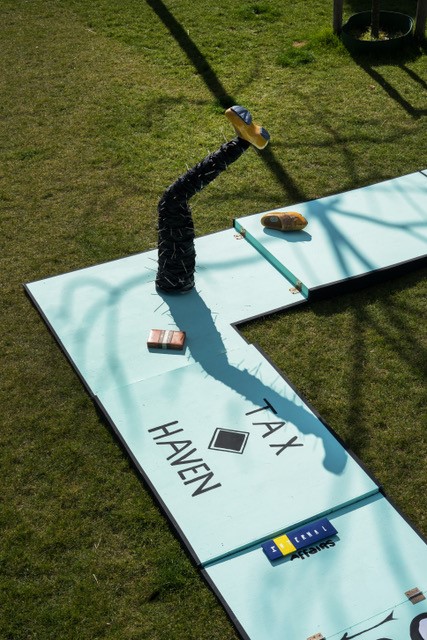 Josilda da Conceição | Bernardus Baldus

In my work I investigate the power and influence of corporate language and visual culture and its disciplining effect on society. A culture where everything can be made and controlled on the basis of figures and efficiency. I am inspired by things like efficiency, success and manufacturability, entrepreneurship, positivity, transparency, office architecture and office supplies. This leads to business objects (sculptures), performances, drawings or photos that function as illusions (simulacrum or simulation). I find it stimulating that the symbolic value - such as luxury and/or status - is more important than originality and authenticity. As an artist, I myself consider originality to be a meaningless, empty concept. Baudrillard calls this the 'irony of the object'.
In my work I use irony as an ambiguous game with which I can seduce, surprise or make the viewer doubt. The most exciting thing about irony is that it functions through the unsaid judgment. To understand irony, context and foreknowledge are important to understand that which is not spoken. If, through irony, I ask the viewer to understand that there is a moral judgment in my work, then both the viewer and I must share that judgment in order to understand the unspoken. That does not always work.
With my ironic, critical work I want to stretch the line between what people expect from art and what it is now. The context and/or prior knowledge of the spectator are important aspects here.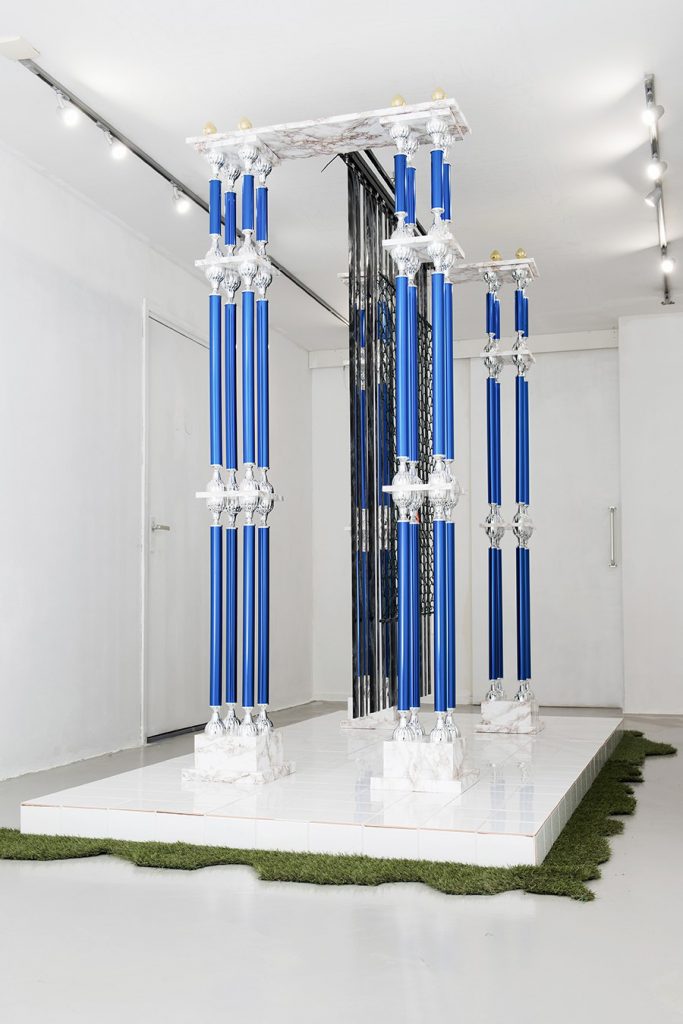 Josilda da Conceição | Marjolein Witte
Seduction is a sculpture that is a follow-up to the Evolution sculpture Witte made in 2019 for the exhibition Masterly Women at Stedelijk Museum Schiedam. By making robust, bold and strikingly colored geometric constructions, Witte investigates how we as a group or individual claim space and try to bend the world to our will. The need to be seen is at the core of our existence. We seek confirmation of our identity in family, in relationships, at work, in society and in the world. As happens similar to the animal kingdom, people have come up with all kind of ways to stand out and claim a place with different sensory means. On a micro level, here it is the artist who spreads her feathers like a bird in an attempt to seduce the viewer.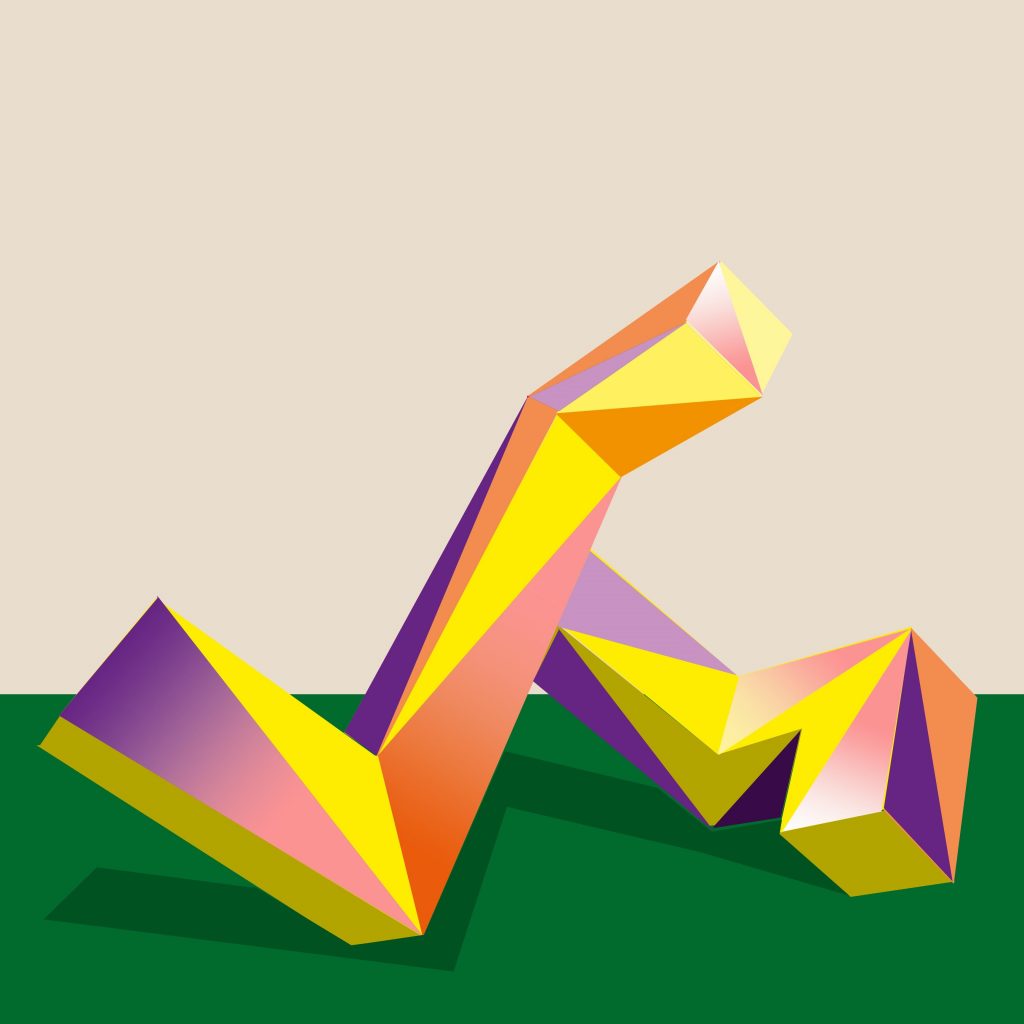 Galerie Nadja Vilenne | Charlotte Lagro
Charlotte Lagro takes found objects and relieves them of their intended purpose and function to accommodate new possibilities for exchange and desire. She strips them bare, plays with them and transforms them, and makes videos about them, often inviting others to join in the process. With sleight of hand, Lagro can make heavy objects appear almost weightless. The work "The Beginning and Ending is Always Ambiguous" centers around an umbilical cable used to supply oxygen, as well as light and communication signals, to deep sea divers. From a hundred meters below, divers climb the umbilical, hand over hand, to make their way back to the surface. In water, its air-filled tubes have just the right amount of added mass to gently sink. This artificial lifeline materializes the vulnerability of human existence. And the search for the familiar in the unfamiliar with handcrafted extensions. An optimistic relic of the human endeavor to the leave the bubble.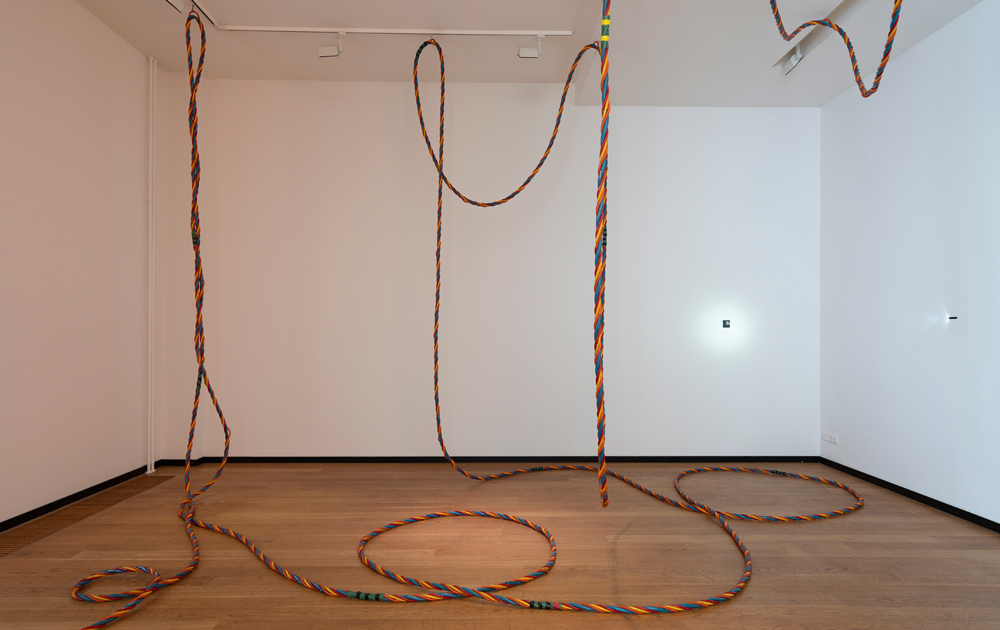 PHOEBUS Rotterdam | Esther Bruggink
I would like to escape from the watery depths, to become human and live in the golden sunshine! – this is what the little mermaid from Andersen's fairy tale sings, in Dvorak's opera "Rusalka". In her longing for the prince, she sacrifices her voice and with it her 'uniqueness'. She loses herself in vulnerability and the prince has to let her go… Full of sorrow she dissolves in the foam of the sea. The sculpture shows a structure of veins and scales, while the lungs on Rusalka's back refer to angel wings…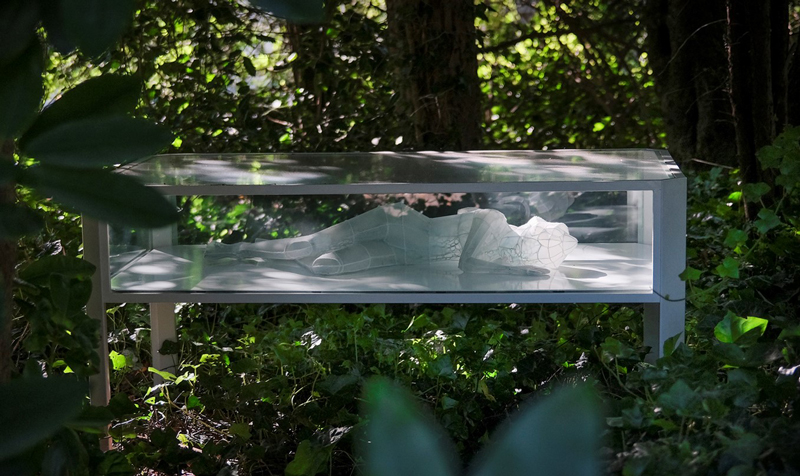 Winterlicht Schiedam | Leonard Passchier
Alarm!
UV light is essential for all living organisms on earth, but it also makes capital grow. In Rotterdam's backyard, the Westland, you can see the purple-blue LED UV lights lighting up more and more often. Will artificial light be our future? Will we no longer be able to live without it? Will it be our only way of getting the vitamin D we need in a world where artificiality is becoming increasingly important?
Passchier's beacon screams for attention. It's five minutes to midnight and our climate is changing rapidly. Is this beacon warning us of rising water? Can we trust this beacon, can we navigate on it? Or will we suffer the fate of flies and mosquitoes that get too close to UV light and burn up?
In December 2022, the beacon will be part of the Winterlicht light art festival in Schiedam, which will take place in the Julianapark.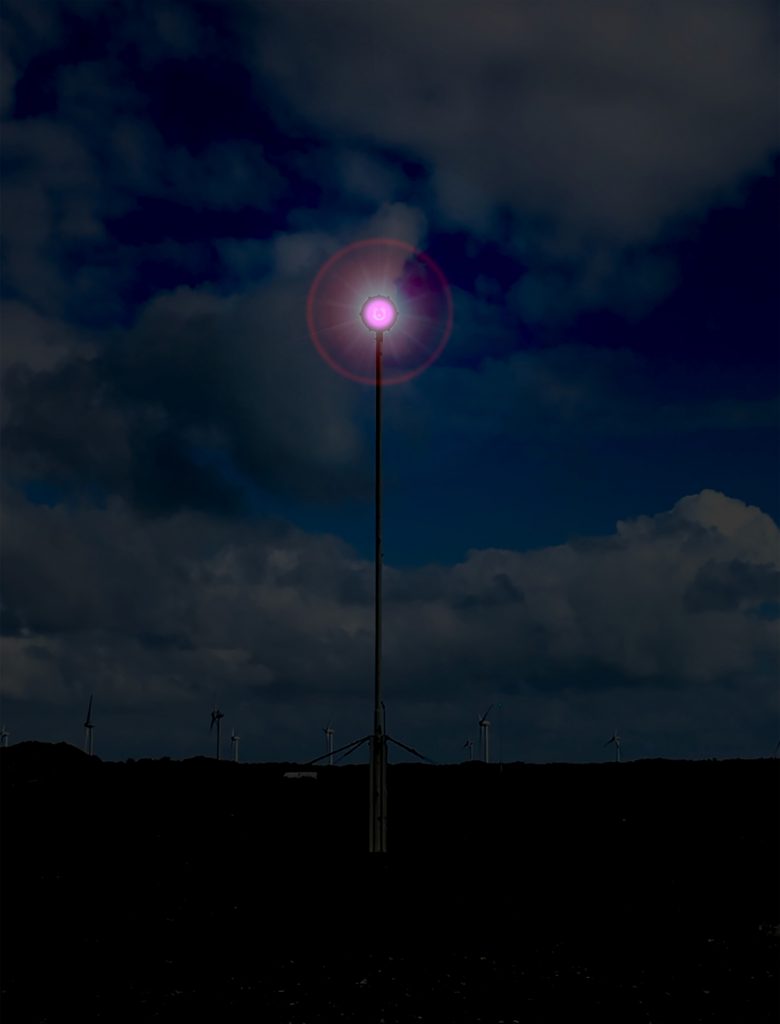 Jaap Sleper | V&B (Alex Jacobs en Ellemieke Schoenmaker)

Over millions of years, our world has been shaped by various geological processes. I would like to introduce you to 'Continental Drifter no.3', the promoter of this long forgotten history.
Stones are very sensitive to their environment and especially to vibrations. This sensibility has an effect on their surface.
My appearance is cuddly. This is because I consist of many layers of colored plaster that have been sanded until my skin feels polished. Where necessary I have been restored and drawing has been applied to come as close as possible to a feeling:
'What would it feel like to be a rock; what was it like when dinosaurs walked the earth. Stones may not be able to speak, but they are telling us something and we need to listen. Because, even though we don't know much about existence beyond humans, we can still try to imagine it....'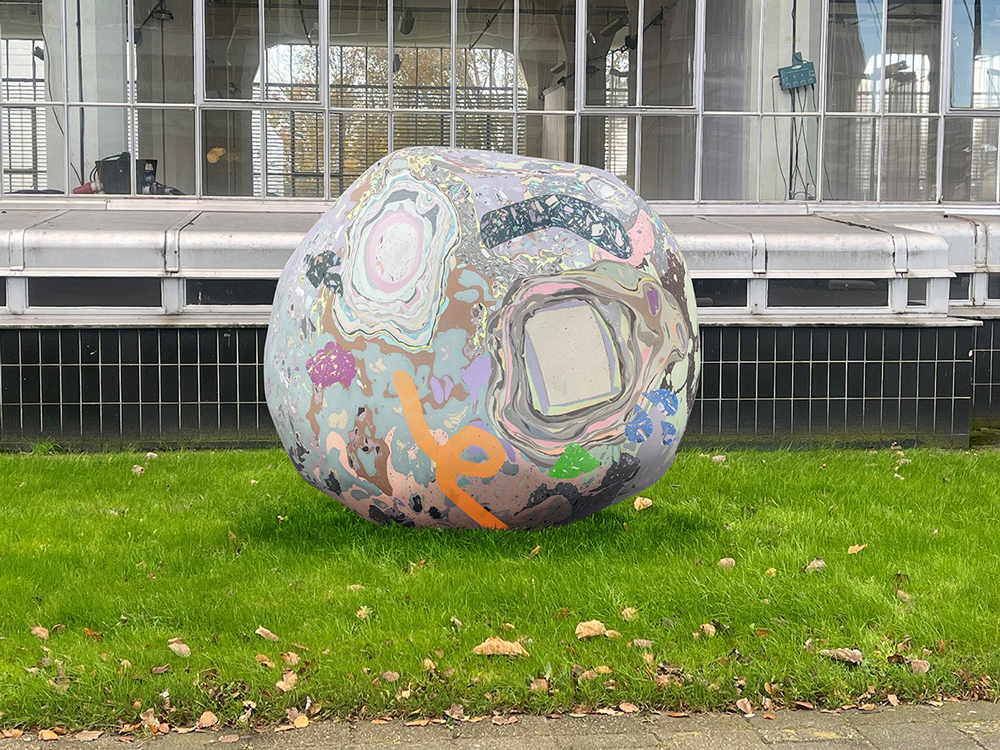 Albada Jelgersma | Jelle Koorevaar
A populist creates his own image of the world, together with his followers. Together they create their own truth within reality. There is an interdependency. Without his followers the populist is nothing. But being part of this worldview is what gives followers a sense of belonging. Populism shows this interaction between a central figure and his followers. In a very large spiderlike web a machine is hung. From a central point, the machine and the web together create a movement that spreads out. Both are dependent on each other. Without the machine the web hangs still. Without the web, the movement would just be inside the machine. Ultimately, it's unclear who is in control.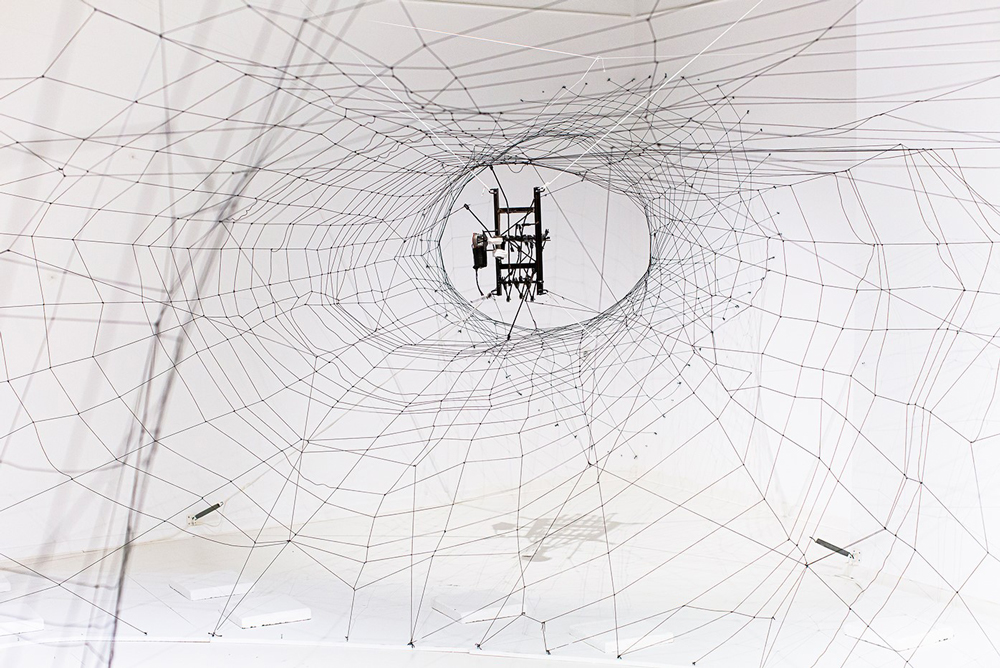 Mundriaan Fund| Roosje Verschoor
An investigation into the phenomenon of hoarding led Roosje Verschoor back to World War I and the food shortages that so prevailed among the poor in Dutch cities. The Amsterdam Potato Riot took place at that time and forms the foundation for this work. Verschoor hands out small, pointed paper bags of fries from a traditional chip cart, an action that refers to a period when potatoes were rationed. At the same time, the snack refers to the 'spoiled fries generation', as Verschoor and her peers are called.On the chip bags is a QR code that links to a digital chart in which we can follow how and where the riot unfolded in Amsterdam. In this Boezelaarskompas, named after the aprons worn by the women, archival material and fiction have been brought together. Verschoor has also incorporated archival materials into collages on paper made of potato peels. The final part of this investigation into the Netherlands' best-known popular food is a series of precious bronze potatoes.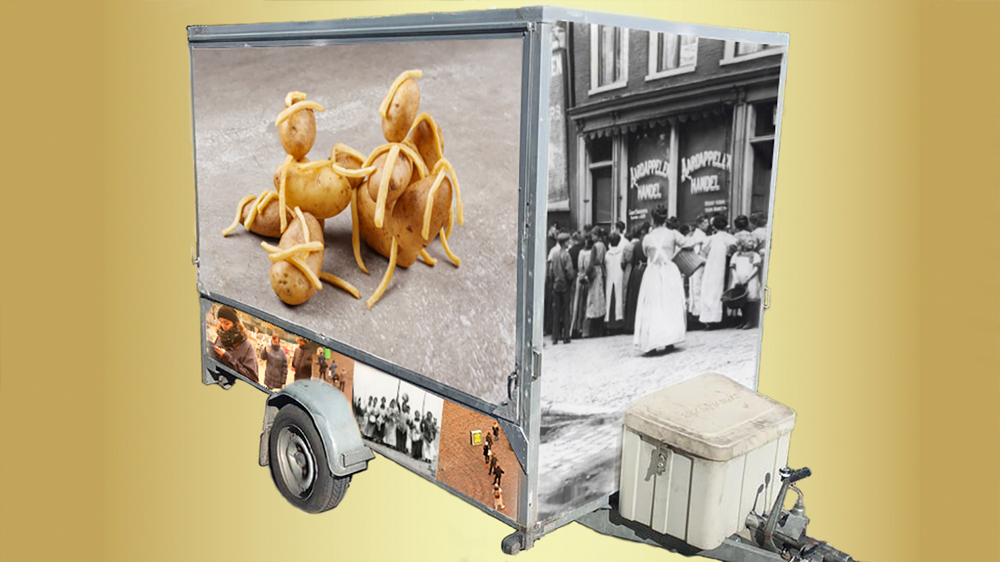 Mondriaan Fund | Jonathan Straatman
Jonathan Straatman makes architectural installations, sculptures with interiors as well as exteriors. Here, the emphasis is on how the interior space is experienced. His architectural assemblages are a kind of 'mind map', translations of ideas and concepts about spaces that can be walked through. In this work as well, the way in which we move through the installation plays an important role. The work is about our urge and desire to hold on to and comprehend a reality. At the heart of the experience awaits a soundscape by Twan Bracco Gartner, made especially for this sculpture.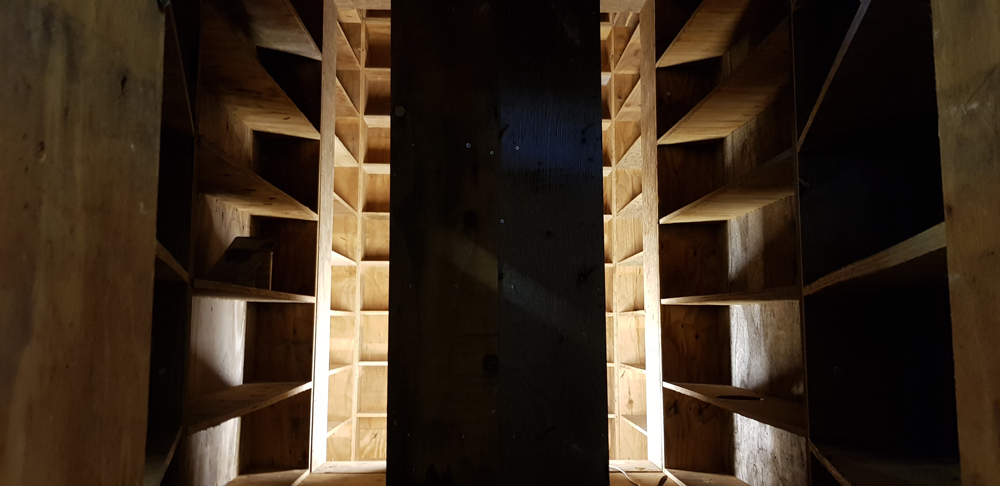 Trendbeheer | Toine Dutch Bushman Klaassen
Not For Sale is a living installation. Contemporary archeology in a laboratory of make-believe: generatio spontanea, visual chemistrymix.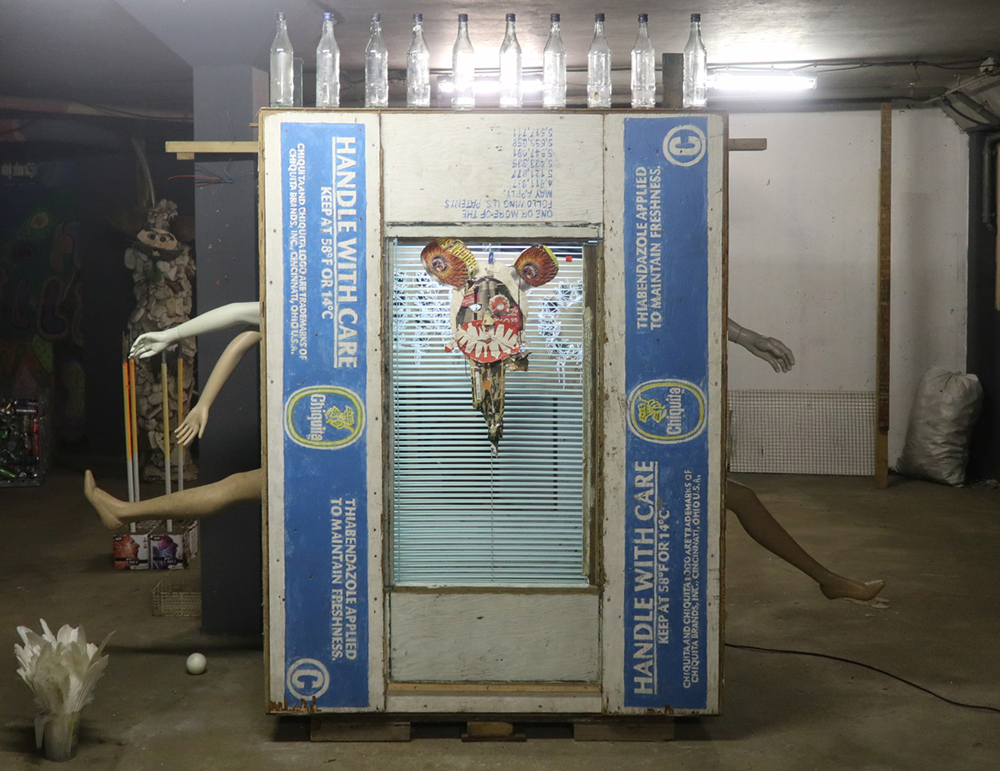 Lumen Travo Gallery | Thierry Oussou

The flag "Equilibrium Wind" is part of the on-going project that artist Thierry Oussou has developed in recent years, addressing the cotton plantations located in the district of Panouignan in Benin and the significant impact they have on the country's economic growth.
Cotton is an important African product in the globalized arena. It is featured in international discourses and debates on privatisation, poverty alleviation, agricultural subsidies, and sustainable development. But unlike gold or oil, cotton grows from the efforts and sweat of millions of small‐scale farmers, with households and entire communities depending on it.
This flag represents all the people working in the shadows. It is a symbol for the farmers that work hard and are not seen in our society. Oussou re-connects the dots of cotton manufacturing, pointing out the sequence of actions that we, as consumers, often forget about.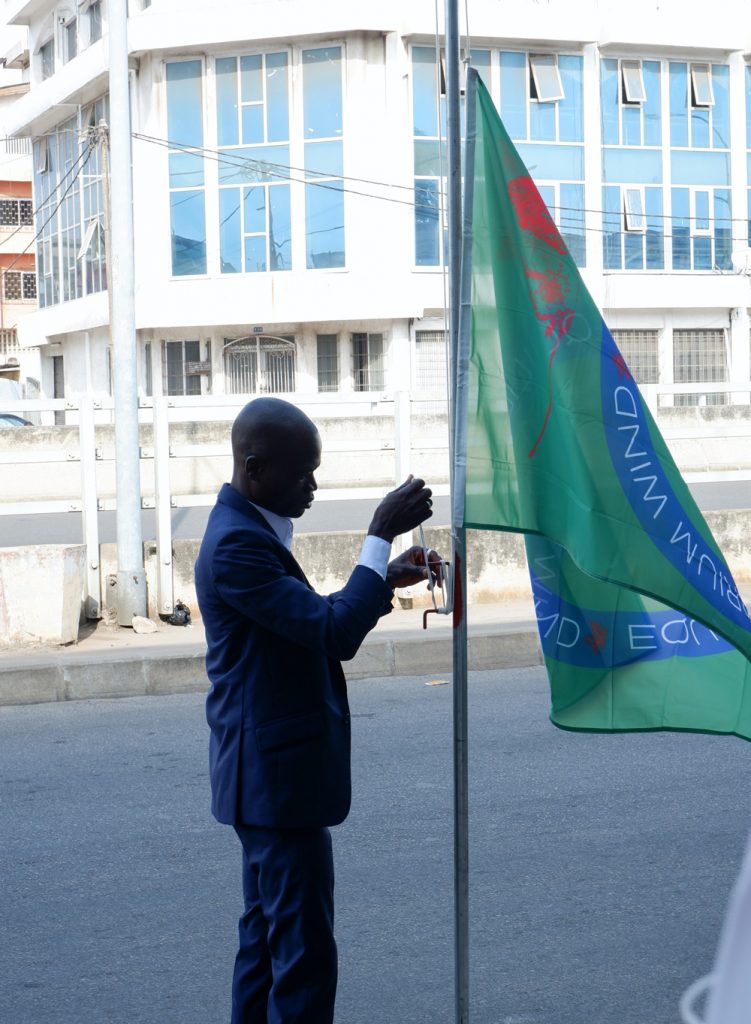 Tim Wes
"This is my best body of work until date", says Wes. As his delicate taste for cultural blending and ability to challenge the status quo of the universal perception of art, gave life to a genre bending artistry, the proverbial energy that flows through his creations reflect the disruptive-healing vision he has for the world. In his latest work he shows us the term uomo universale, today also referred to as a multidisciplinary artist, still exists. Just as Da Vinci embodied this in the 15th century, the Rotterdam based creator redefines the definition of this term by establishing unprecedented innovations in the contemporary fields. A blueprint for the new order. With the installation Trauma Triggers Triumph he uses film, music, canvas and objects to narrate his story and that of many others.