#MeetTheArtist The layered work of Iriée Zamblé
During Art Rotterdam you will see the work of hundreds of artists from all over the world. In this series we highlight a number of artists who will show remarkable work during the fair.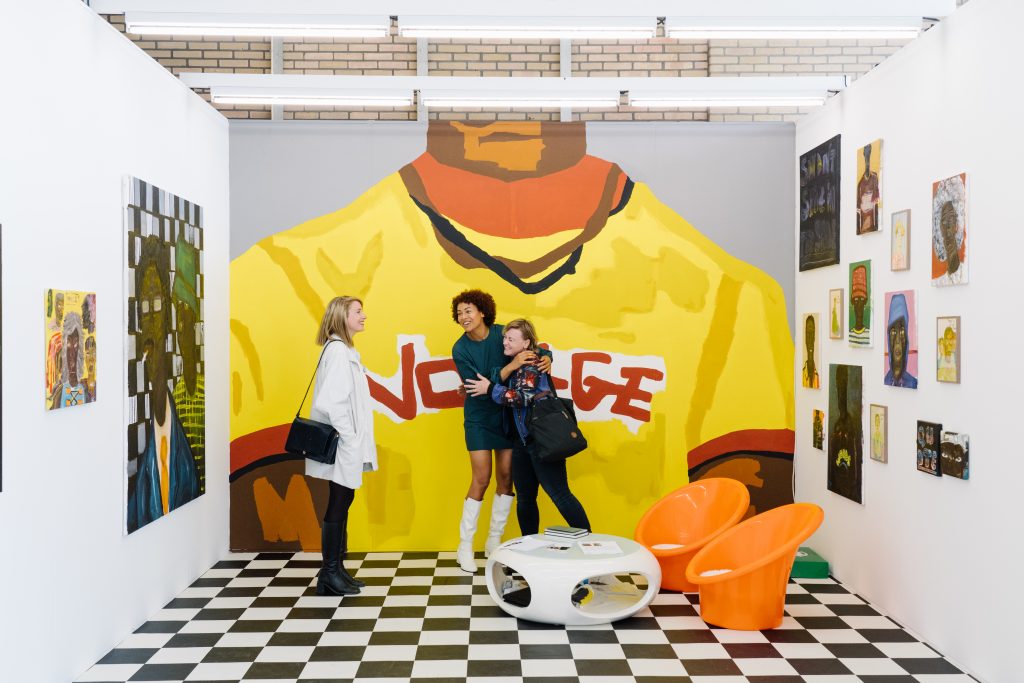 When De Volkskrant newspaper reported on Art Rotterdam in 2021, the headline was clear: 'Artist Iriée Zamblé stands out at Art Rotterdam'. Zamblé (1995) immediately attracted attention after graduating from the HKU in 2019. She was offered a studio in The Rembrandt House Museum, a residency at Roodkapje Rotterdam and she won several awards, including the Sprouts Young Talents Award and the Royal [Dutch] Award for Modern Painting. One of her murals is currently on display in Stedelijk Museum Schiedam and her work has been included in the collections of the Ministry of Foreign Affairs, Ahold and The Rembrandt House Museum, among others.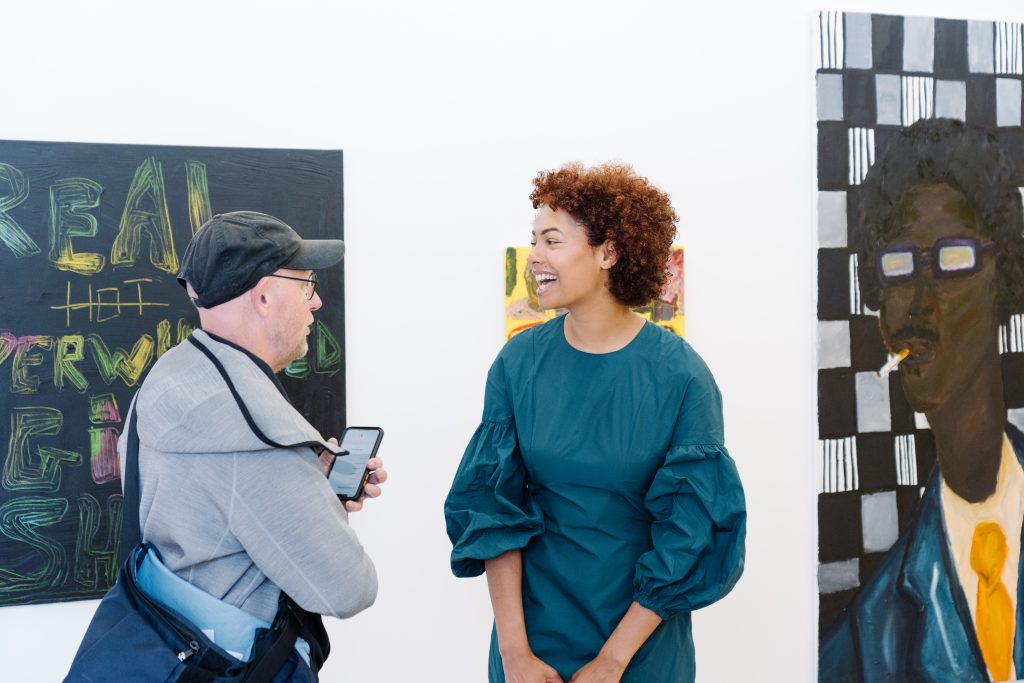 Zamblé is known for her expressive portraits on paper and canvas in which black people play a leading role, while they are usually the exception in the art historical canon. Where a painter like Kehinde Wiley often places the black body in elevated positions — like a contemporary Napoleon on horseback — Zamblé does the opposite: she shows everyday black people you might encounter on the street. She is inspired by photos of passers-by and appropriates certain elements of their appearance or clothing and then creates a new character on the canvas. Their personality emerges powerfully in those paintings. She works quickly, in rough lines, with materials such as acrylic, oil paint, pastel and spray paint. Zamblé is also intrigued by West African studio photography by artists like Sanlé Sory, who used striking fabrics for his backgrounds.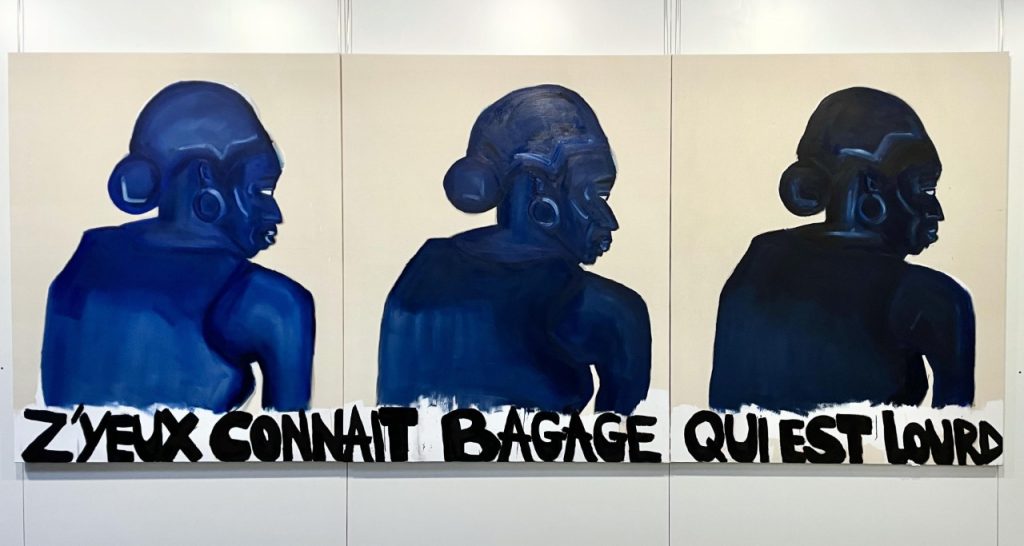 The artist is looking for a certain coolness, as defined in West Africa and African diaspora cultures. Her characters are empowered and have agency over their lives and decisions. They are confident and proud in their language, dress and attitude and dare to take up space. In the West, this coolness is almost an act of defiance against a history of oppression and a contemporary society in which white people and systemic racism are still the norm. These people reclaim and redefine blackness in a new context, stripped of colonial connotations. For example, Amsterdam-based artist Tyna Adebowale once said, "Before travelling outside Nigeria I never saw myself as black." In her practice, Zamblé offer a critical look at the white lens as an automatic frame of reference, but also, for example, at the (short-term) performative activism after the Black Lives Matter protests. She is looking for more sustainable and effective ways to keep the conversation going about these topics. Zamblé is idealistic and hopes to make us look at the world in a new way, but at the same time she hopes that we will mainly see humanity in her work and not just blackness. That it evokes a certain curiosity about the person depicted.

Opposite to that coolness is a desire for self-protection. Where some characters stand confidently in the picture, others lower their eyes or hide behind hoodies. In addition, the artist is also interested in care, a theme within feminist theory that is increasingly reflected in the art world — not surprising as a counter-movement in a world (and discourse) in which struggle and activism play an significant role. Zamblé's practice is also marked by fun; her booth at Art Rotterdam in 2021 was a total experience and was rarely empty. In addition to works of art, she also paints bags and produces merchandise, because she believes that her work should be accessible to everyone.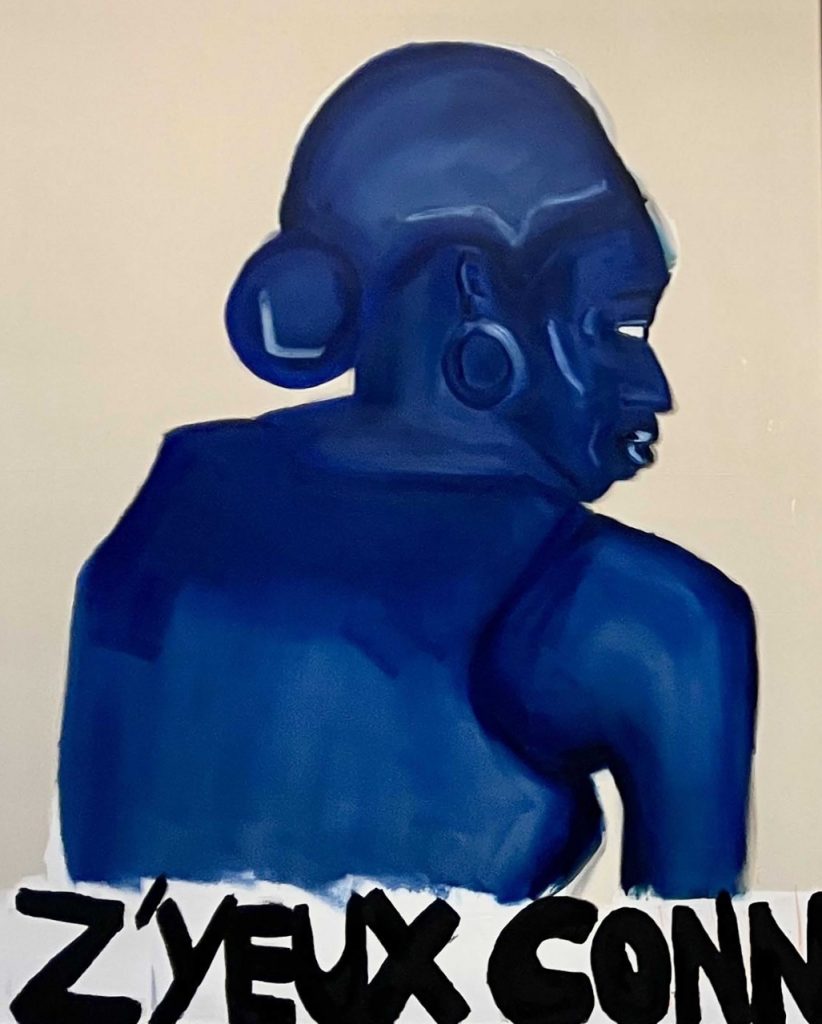 Zamblé is also inspired by the work of Ralph Ellison from the 1950s, who wrote about his experiences as a black American and the social problems and political and intellectual movements within that context. The book Afropean by the British writer, photographer and presenter Johny Pitts also plays a role in Zamblé's practice. For this book, Pitts traveled through pre-Brexit Europe — from Lisbon and Paris to Stockholm — and spoke to several Europeans with African roots. For Pitts, the more equal term Afropean offered an opportunity to look at his own identity in a new way, not as half European and half "different", as half "deviating from the white norm", but rather as one unified term that doesn't pit two sides of his identity against each other.

Zamblé's practice is theoretically layered, but her paintings are in essence also accessible to people outside of the art world. Her latest works, that will be shown at Art Rotterdam, take a closer look at language, as a means of self-ownership (to include and exclude people). Zamblé: "I want to draw a new line in the legibility of my paintings. I think it's interesting to see who you speak to as an artist and which language dominates in a space."

During Art Rotterdam you can view Zamblé's work in the Prospects exhibition of the Mondriaan Fund. For the 11th time in a row, the Mondriaan Fund presents the work of starting artists here. All 73 artists who show their work this year will receive a financial contribution from the Mondriaan Fund in 2021 to start their career.
Written by Flor Linckens