#MeetTheArtist: Klaas Rommelaere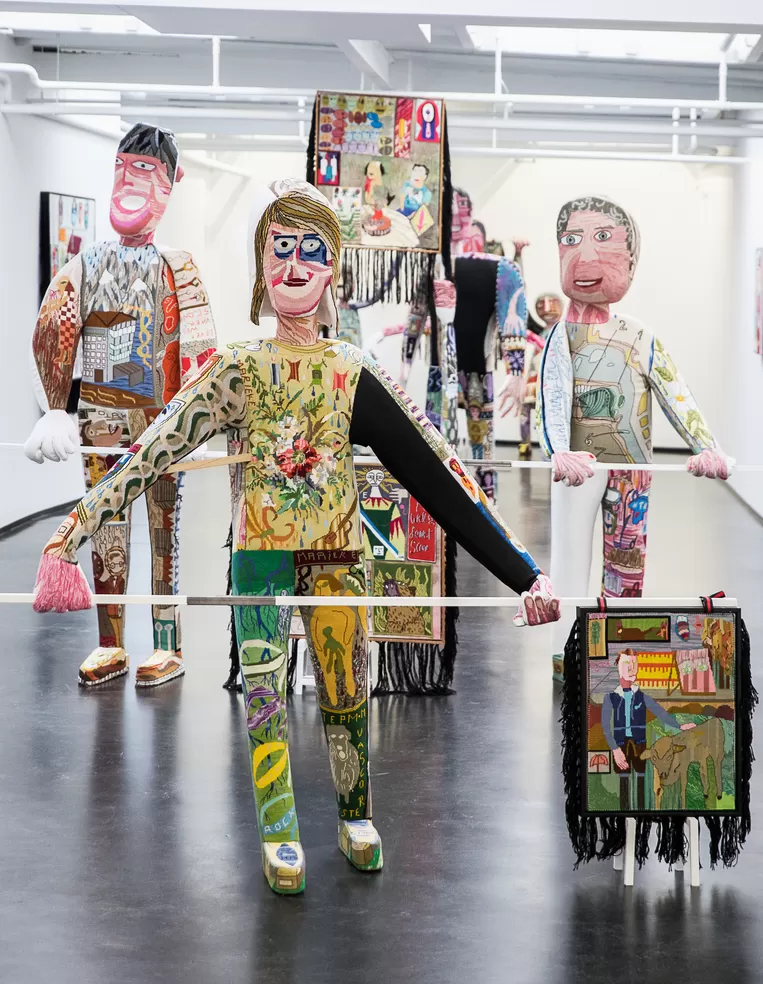 No man is an island: artist Klaas Rommelaere turns family and friends into art
Artist Klaas Rommelaere is currently causing a stir with his Dark Uncles series, consisting of a parade of life-sized embroidered dolls of family and friends. For Art Rotterdam, Rommelaere made no fewer than ten new works to be displayed at Madé van Krimpen's booth. "I am a loner. The paradox is that my work almost always involves people. I've even made them in doll form."
Rommelaere (Belgium, 1986) studied fashion at the Royal Academy of Fine Arts in Ghent. During his studies, he did internships with Henrik Vibskov and Raf Simons, but soon realised that the fashion world was not a place where he could act on his ideas. Inspired by films, comics, books and personal experiences, Rommelaere began translating his ideas into visual work using the tools and materials he knew best: the needle, thread, wool and yarn.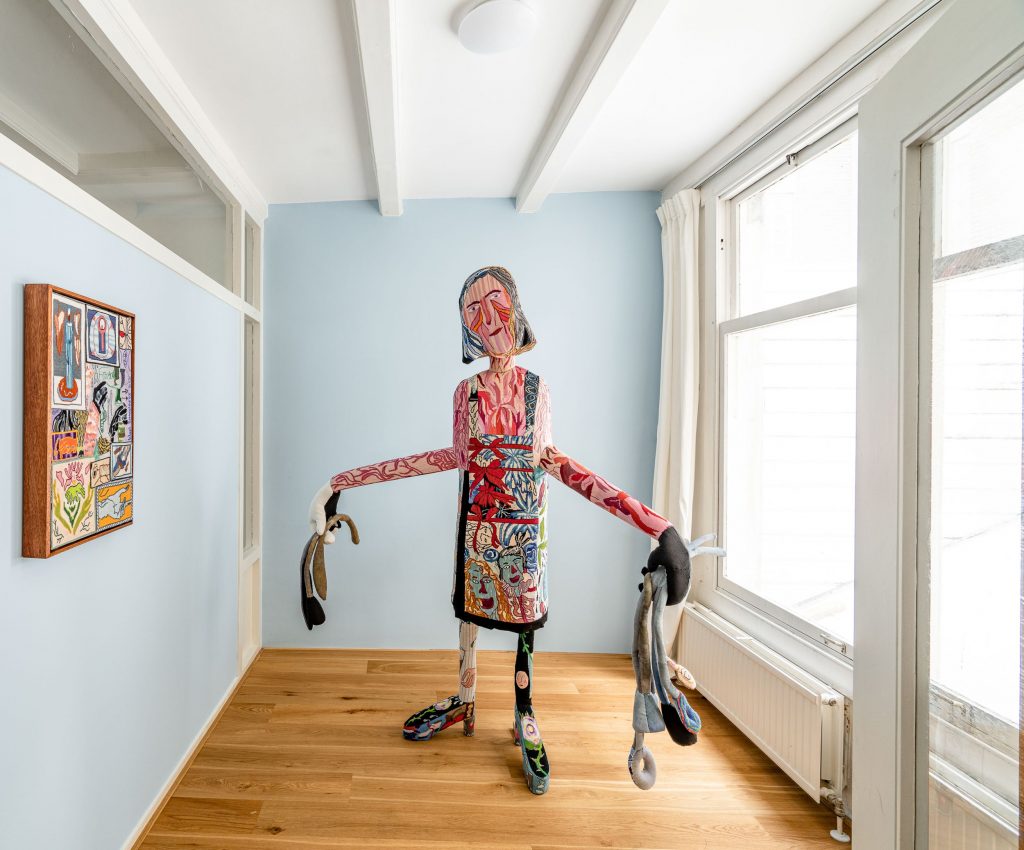 Do you already know which works you will be showing at Art Rotterdam?
At Art Rotterdam, I'll be showing works under the name of Dark Uncles. This is a project that started a few years ago when I came up with the idea to create a procession with people who have influenced me over the years, from family to friends. They wear embroideries of memories and photos and are completely covered with embroidery. The project has already been shown in Belgium, France, Germany and the Netherlands, with a different set-up each time. For Art Rotterdam, I made ten new works. I always find it interesting to work on an idea and see how far you can take it.
For those who don't know your work: you create works of textile, embroidery or in the form of life-sized dolls. Why have you chosen this medium?
I became familiar with embroidery and handicrafts during my fashion studies. That study programme was my second Bachelor's and Master's and I was looking for an easy and direct way to convert my graphics into textiles without too much cost or hassle. So, as early as my first year, I began embroidering with wool and canvas from a local thrift store. In the years after that, I began exploring another technique. This is how my artistic process has evolved, which also fits my way of thinking. Handiwork takes a lot of time, and that time lets me think about my work and how it will end up. It's like building a house: you lay brick by brick and in the end, you have an entire house or work of art. Completing a work or project can take anywhere from six months to two years.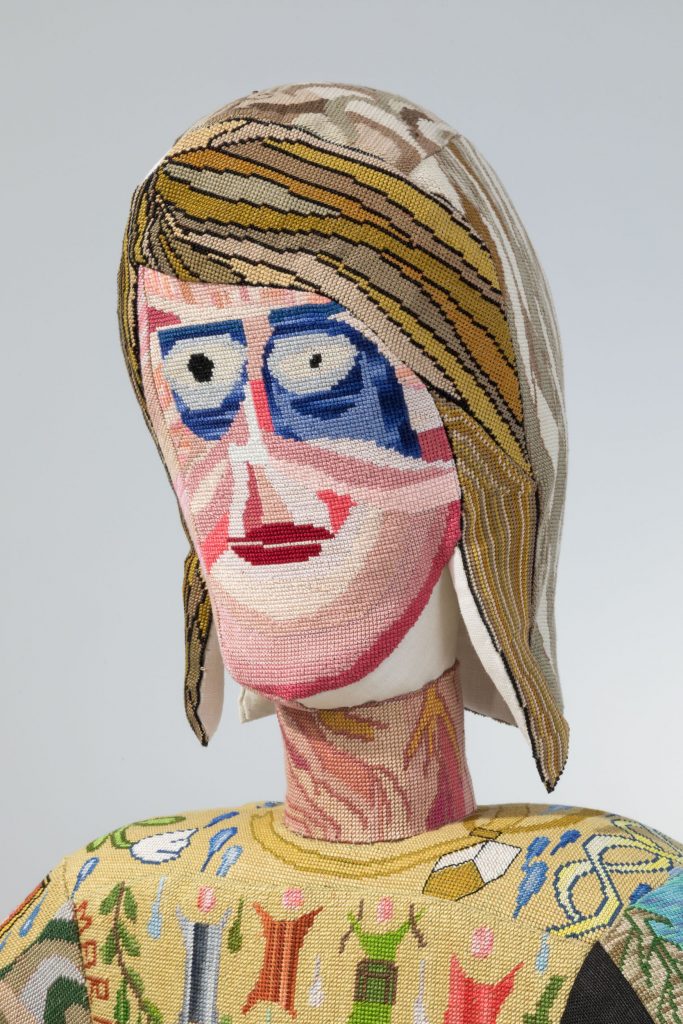 You've titled the series Dark Uncles, a Swiss folklore term for doubles. It consists of life-sized dolls of family and friends. Why did you make the people in your immediate environment the subject of your work?
When I began working with canvas and flags, my grandmother always took care of the finishing touches. This was in Ingelmunster and a little ways down the road, there was a beautiful white wall where I always took pictures. The cloth always had to be carried like a flag to that location. My grandfather and a neighbour usually did this. I also took pictures of that little procession and always found it to be a strong image. As I've grown older, I sometimes enjoy looking back to see how far I've come and which people have influenced me. We're so obsessed with moving forward these days that we sometimes forget our roots. No man is an island.
I've read that as many as 100 people have contributed to the Dark Uncles series. How does such a collaboration come about and where do you find so many people who are willing to embroider for you?
The first part of Dark Uncles was made entirely during the pandemic. At first, the idea was to do everything in workshops, but then the pandemic started. That's why the museum made a call for volunteers who wanted to embroider. Many people were at home with a lot of time, so the response was massive. We sent everything by mail. I was in contact with them by WhatsApp and email. I did not see most of the people who helped out until the opening. From this project, a new group of 'madammen' has emerged, in addition to my first group in Merksem and Ingelmunster.
Embroidery takes a lot of skill and time. It is certainly not a fast technique. Do you consider your work a criticism of the fast-paced art world and our society in general?
It's not a criticism because I didn't consciously choose it. It's just how I work. But I do think it feels different to people who see the work because it is something tangible, something practical and you can tell it has been created with care, time and skill. Visitors are always amazed because it looks different in real life than in pictures due to the details and texture of the canvas. Since it takes so long to finish a work, I can put in a lot of details, so that you cannot 'read' the work completely at a single glance. I often hear from people who have my work hanging in their homes that they see something new almost every day.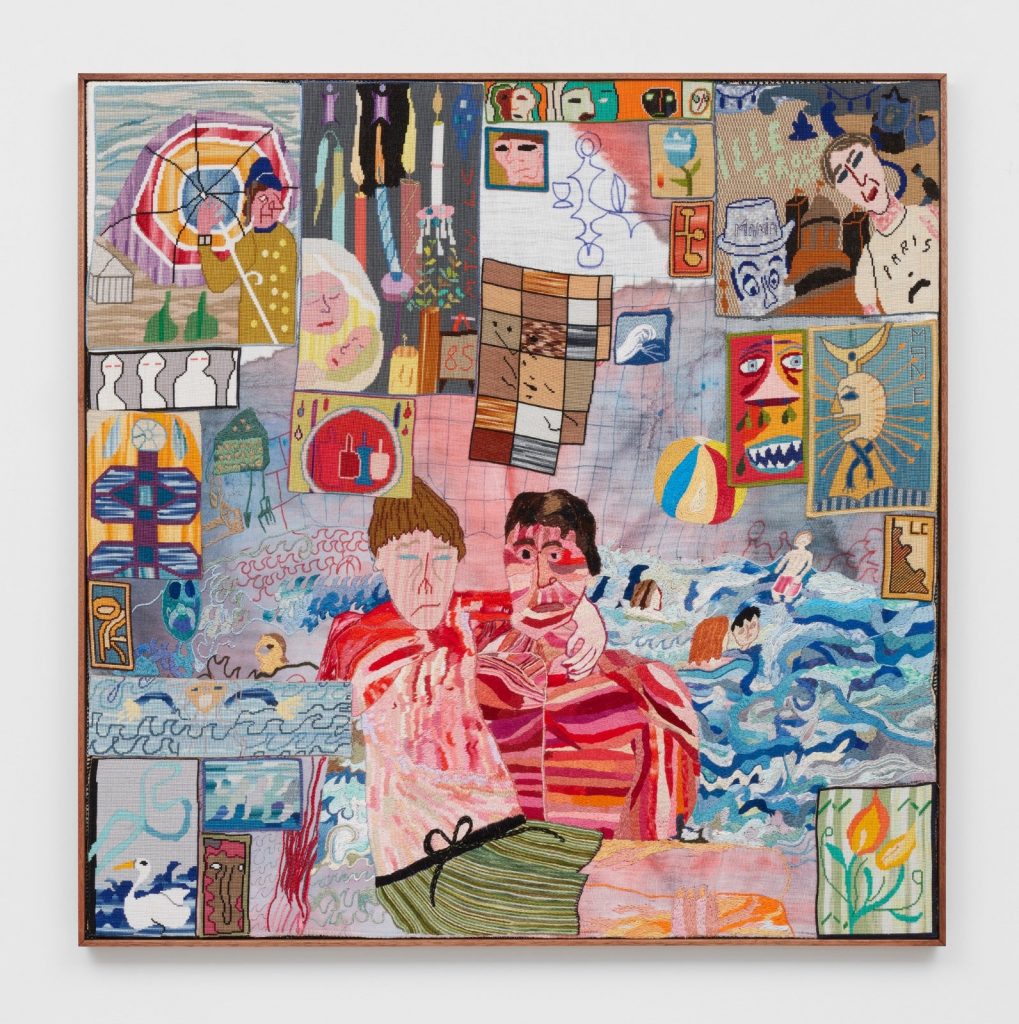 I read that you are inspired by cult films. Which films and why do these particular films appeal to you?
I try to see all films that are shown in cinemas and luckily, I have a subscription. Usually, it is the atmosphere of a film that appeals to me most. When I'm working on a project, I'm open to things that can 'feed' the project and make it stronger. When I was creating Dark Uncles, I travelled to Tokyo and became fascinated with Hayoa Miyazaki (co-founder and artistic director of the famous Japanese animation studio Ghibli, ed.). I've watched documentaries about him and read his biography and have learned that we think exactly the same way about life and the artistic process. I believe film is the ultimate art form.
Would you say that the main theme of your work is the relationship with your immediate environment?
I'm not much of a social person. I like to be alone and only need a few people who I see regularly. Apart from that, I'm a loner. The paradox is that there are almost always people in my work; I've even made them in puppet form. I think my work is a way to communicate with people, to feel connected to the 'world' as it were.
Wouter van den Eijkel