Outdoor art at the Van Nelle Factory

The interesting thing about art is that a work can sometimes offer a completely different experience in a different context. From 9 to 12 February, the area around the iconic Van Nelle factory will be transformed into an outdoor museum full of surprising artworks, allowing you to view the pieces with fresh eyes. Below, you'll find an overview of the works on display.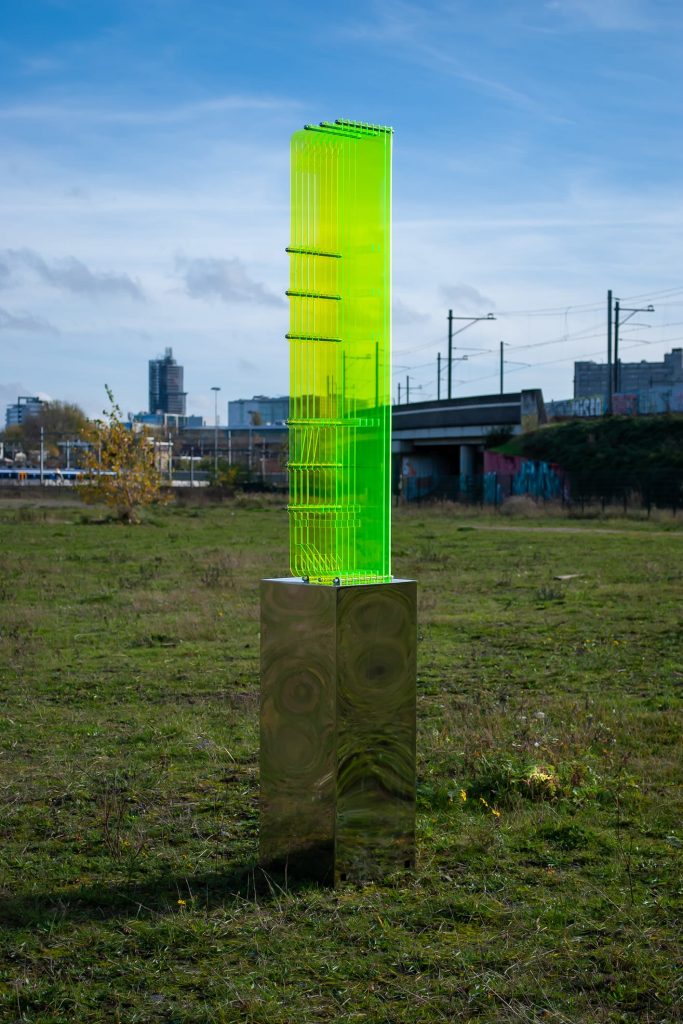 Tom Putman, Untitled (2022), Heejsteck#
We often don't realize that when we buy a new product, we usually also buy waste. More specifically: packaging material. This work by Dutch artist Tom Putman takes inspiration from a shape that everyone is bound to recognize, the styrofoam that fills the negative space around a product in a cardboard box. Its form and function are completely derived from the product that it embraces and it therefore has no identity of its own. Yet they are usually interesting shapes, which nevertheless end up in a garbage bag almost immediately after opening the box. Putman hopes that his work will create a certain awareness about our relationship with waste and the mass production that is such an intrinsic part of our capitalist society. He does this in part by offering these styrofoam shapes a revaluation in a new material: perspex.
Miyuki Inoue, In practice (2023), part of the Mondriaan Fund's Prospects exhibition
The human voice is the most important material in the work of Japanese artist Miyuki Inoue, who has been living in the Netherlands since 2016. She completed a 'Master of Voice' at the Sandberg Institute, in which the voice is explored as a unique discipline, as a means or as an end in itself within an artistic practice. Inoue is interested in unlearning certain vocal habits that have a basis in social norms.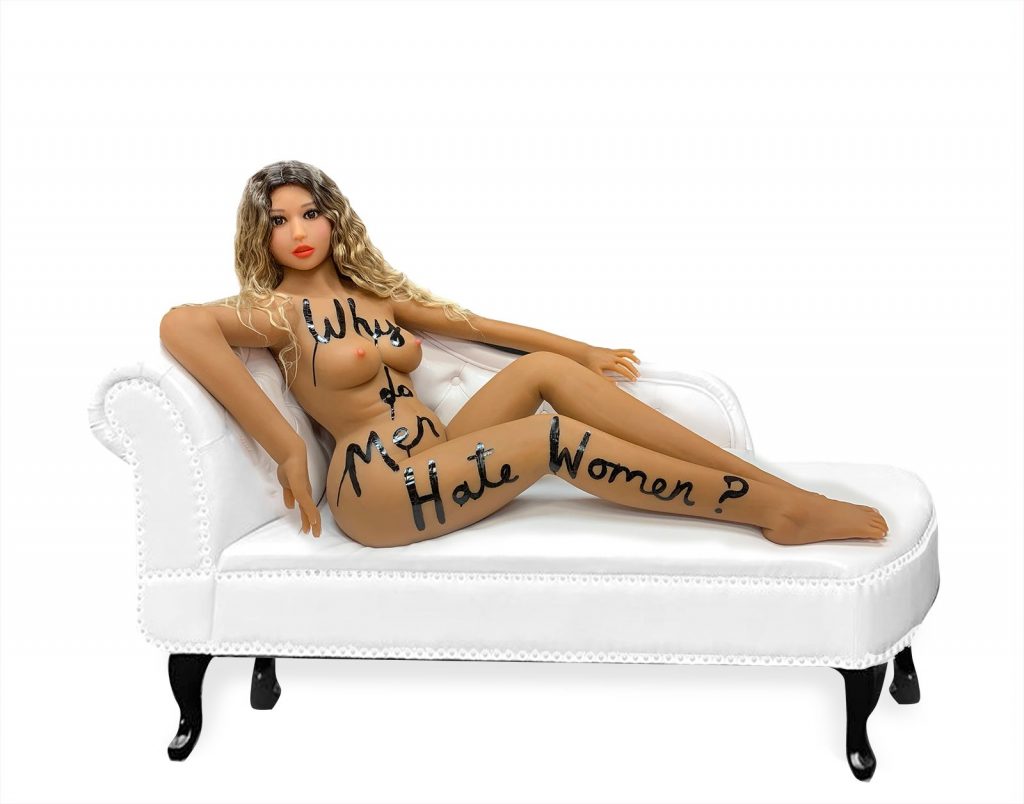 Sarah Maple, Why do men hate women? (2023), KochxBos Gallery 
The British activist artist Sarah Maple made a site-specific installation for Art Rotterdam that is connected to a research project and an interactive performance. Although women have gained many freedoms in recent decades — until 1956, for example, Dutch women were not allowed to travel or open a bank account without the permission of their husbands or fathers — there is still a lot to gain. Inequality and double standards are still deeply entrenched in our society. Moreover, recent developments in the US and Poland show how easy it is to reverse recent achievements. In her interactive installation, Maple presents a naked female body in the form of a doll in a recognisable, reclining position on a chaise longue: a reference to famous paintings such as "Olympia" by Manet. In 1989, the Guerrilla Girls made the work "Do Women Have To Be Naked To Get Into the Met Museum?", in which we see a woman in the same pose, wearing a gorilla mask. In the Netherlands, the podcast 'Naked on a rug' ('Naakt op een kleedje') was created to draw attention to the problem. Maple makes an important contribution to the discourse with this research project: she titled the work with the provocative question "Why do men hate women?" and allows visitors to offer their (anonymous) opinion via the website www.whydomenhatewomen.com. The answers will be processed in the installation during Art Rotterdam. How progressive are the Dutch really, if they are allowed to answer anonymously? Sarah Maple herself will be present from 8 to 11 February. The first live performance will take place on Wednesday 8 February around 11 am.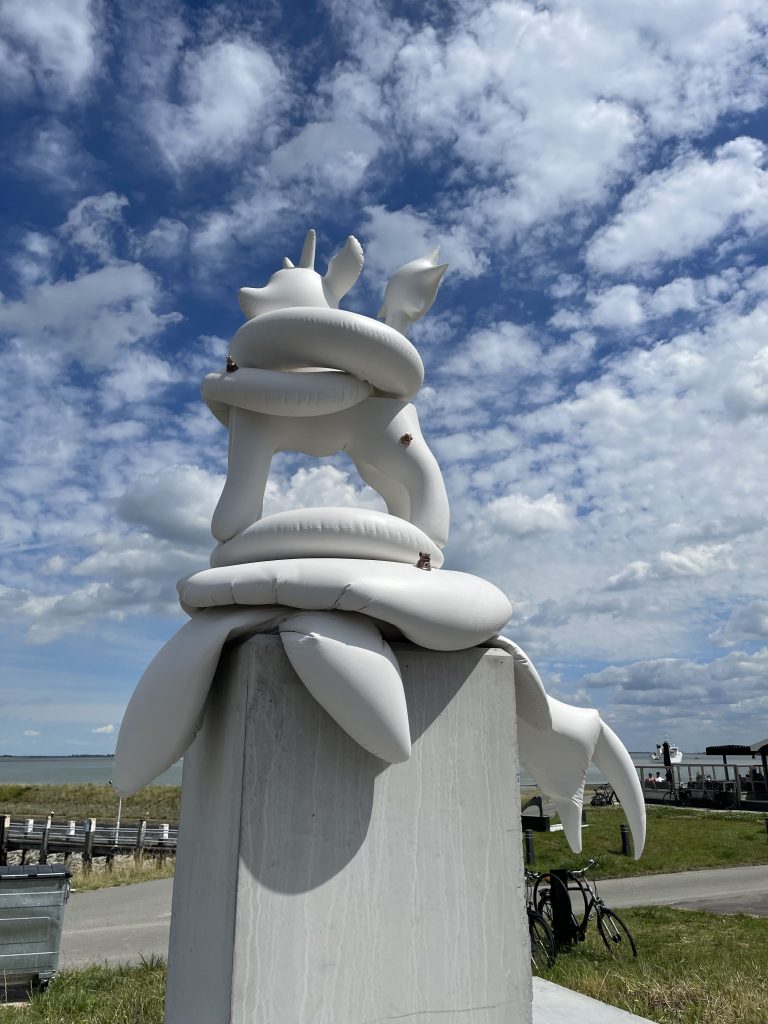 Unflatables, Air IX / Stacking Dreams (2022), MPV Gallery
The practice of the new art collective Unflatables has a surprising central element: inflatable figures. These carry countless connotations, including carefree fun during endless summers, but at the same time environmental pollution due to their limited lifespan. The collective is inspired for their work by an important benchmark in childish creativity: the moment when toddlers learn to stack objects. Unflatables creates surprising, stacked works of inflatable objects that have a monumental quality. The inflation valve in these works is made from gold.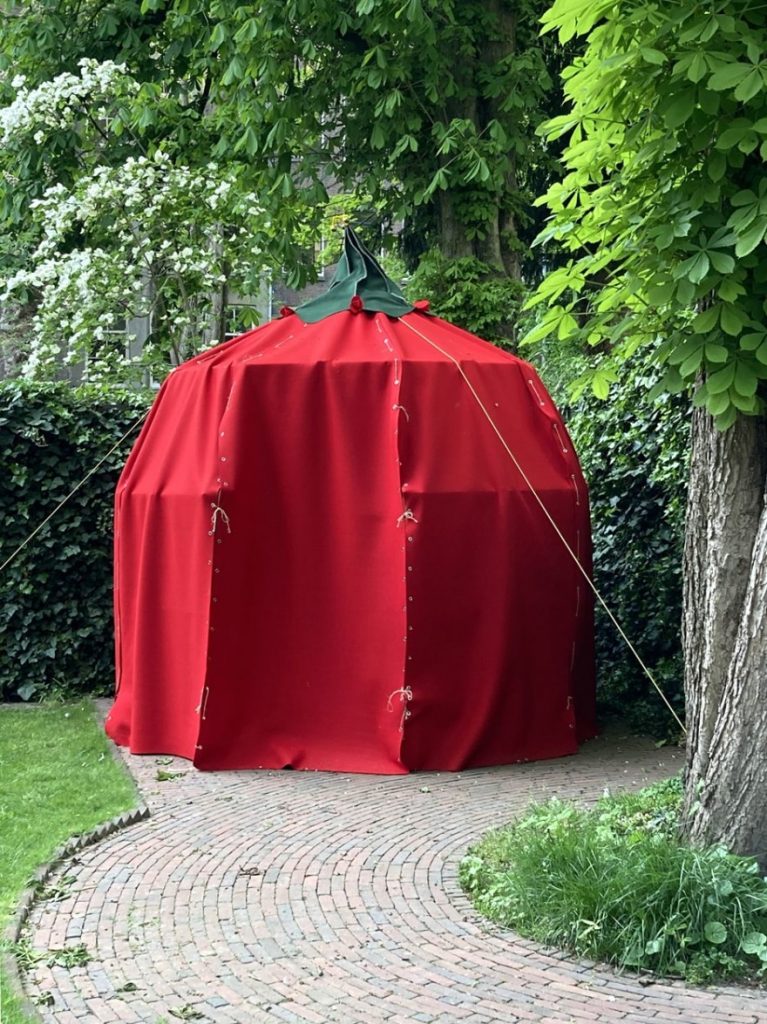 Regula Maria Müller, Gekskap / Madcap (2021-2023), PHOEBUS Rotterdam
The Swiss artist Regula Maria Müller is often inspired by the book 'Praise of Folly' by Erasmus, and specifically by the subject of vices. During Art Rotterdam, she presents a tent, made of thick red felt. In terms of form, the work refers both to an inverted tulip — and the related tulip mania of the 17th century — and to a jester's or madman's hood, complete with brass bells. The sculpture is based on a work from the Rijksmuseum collection: an 18th-century etching from the Rijksmuseum about the tulip mania. On the inside of the tent, the names of 17th-century tulips are embroidered on seven textile panels. In addition, we see necklaces made of Venetian red beads, with small red, tulip-shaped sculptures of glass beads and gilded ceramic tulip petals. You can find Müller's work in the collections of Museum Boijmans van Beuningen, the Centraal Museum, ABN Amro and the Van Gogh Museum, among others.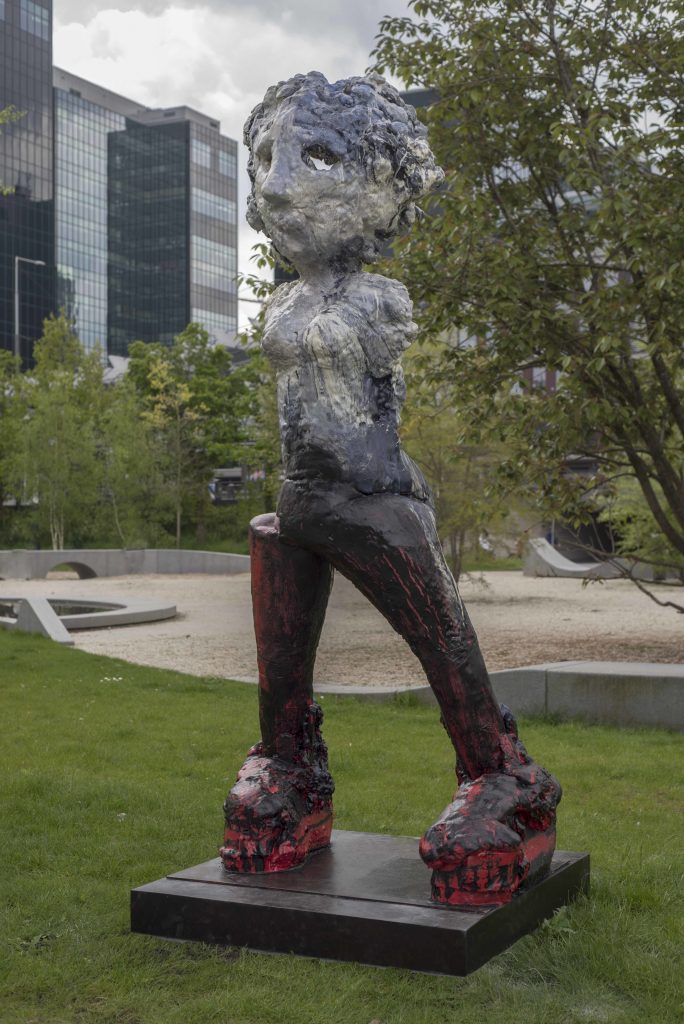 Marieke Bolhuis, Big Sister (2021), MPV Gallery
The Dutch artist Marieke Bolhuis presents the gigantic work 'Big Sister' (2.40m). At first glance, this work appears to be made of carefully crafted ceramics, but in reality the base is formed by large blocks of styrofoam, which the artist models with a filament, over which she then applies a layer of polyester and boat paint. Bolhuis shows a powerful woman, viewed from the 'female gaze', and her work is inspired by famous artists who have a strongly autobiographical and feminist practice, including Tracey Emin and Louise Bourgeois. At the same time, her works symbolise inclusion and diversity.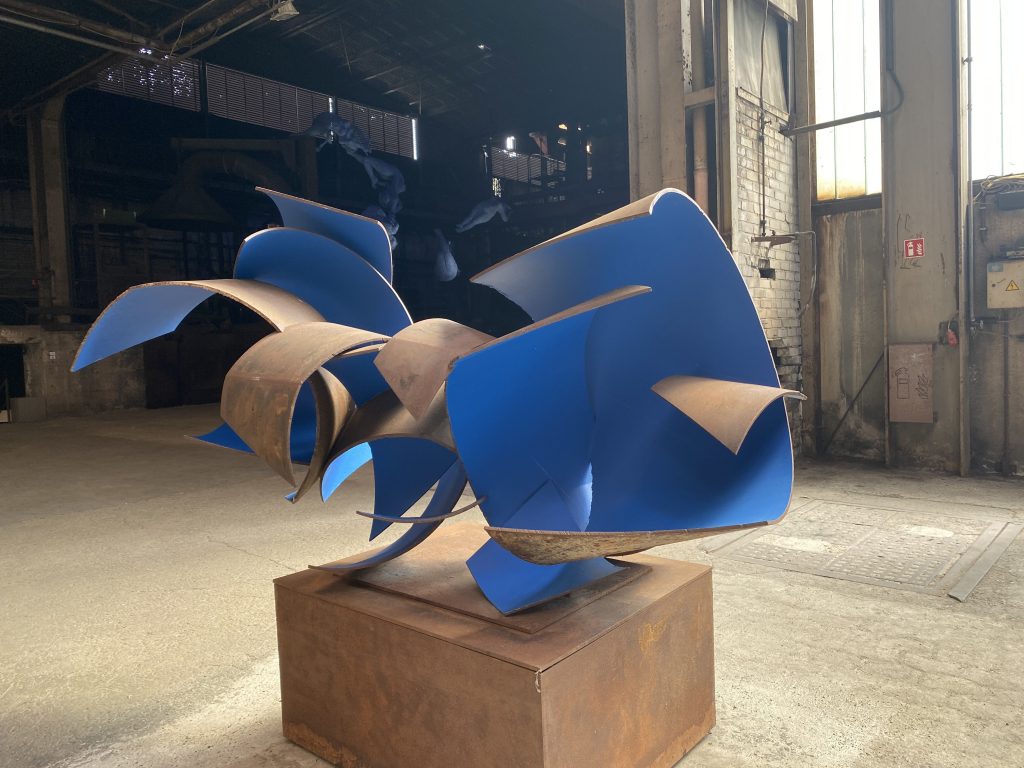 Eelke van Willegen, The mind is fear (2022), Galerie Franzis Engels
The practice of the Dutch artist Eelke Van Willegen is marked by powerful wave movements. His sculptures are characterised by natural forms, volume and an apparent simplicity, with an unmistakable energy beneath the surface. At the same time, the works refer to a personal hobby of the artist: surfing. A form of entertainment, but also an active search for the perfect balance in which different elements — wind, water and a body — come together. Competing for and fighting against (natural) forces that are greater than ourselves, as a metaphor for life. The work "The mind is fear", that is shown during Art Rotterdam, originated in the images of the devastating tsunami in Indonesia in 2014.
Chantal van Lieshout, Even if you kill me (Al sla je me dood) (2022), part of the Mondriaan Fund's Prospects exhibition
The inflatable sculpture "Even If you kill me" ("Al sla je me dood") by the Dutch artist Chantal van Lieshout shows a gigantic mosquito, lying exhausted on the floor. Its swollen body and the blood around its snout suggest that the mosquito has been feeding recently. The sculpture is a tragicomic imagination in which different worlds come together. In this case, Van Lieshout shows a similarity between the lives of mosquitoes and humans, who both have to rest for a bit as a result of an 'after-dinner dip'.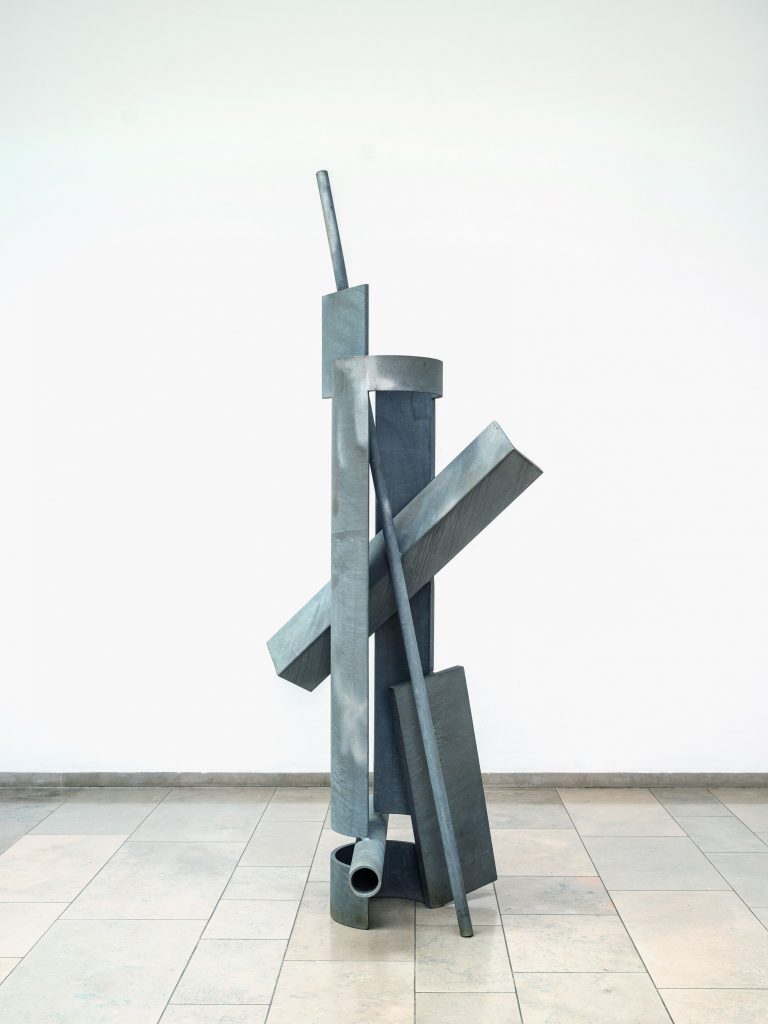 Ruud Kuijer, SPARK XIII (2015), Slewe Gallery
The Dutch artist Ruud Kuijer shows an abstract and vertical sculpture that looks different from every angle and has no specific front or back. Its base is formed by a cylindrical shape, which is openworked and pierced by several other shapes. In his practice, Kuijer always tries to capture the essence of a specific sculpture and he regularly uses recognisable forms for that. The separate elements seem to defy gravity, which imbues the whole with a dynamic quality. This sculpture is part of 19 proposals that the artist made between 2014 and 2019 for the project SPARK (Amsterdam-Rhine Canal Sculpture Project). You can find the artist's work in the collections of the Centraal Museum, Kunstmuseum Den Haag, the Stedelijk Museum, the Gerhard Marcks Haus in Bremen and Museum Beelden aan Zee, among others.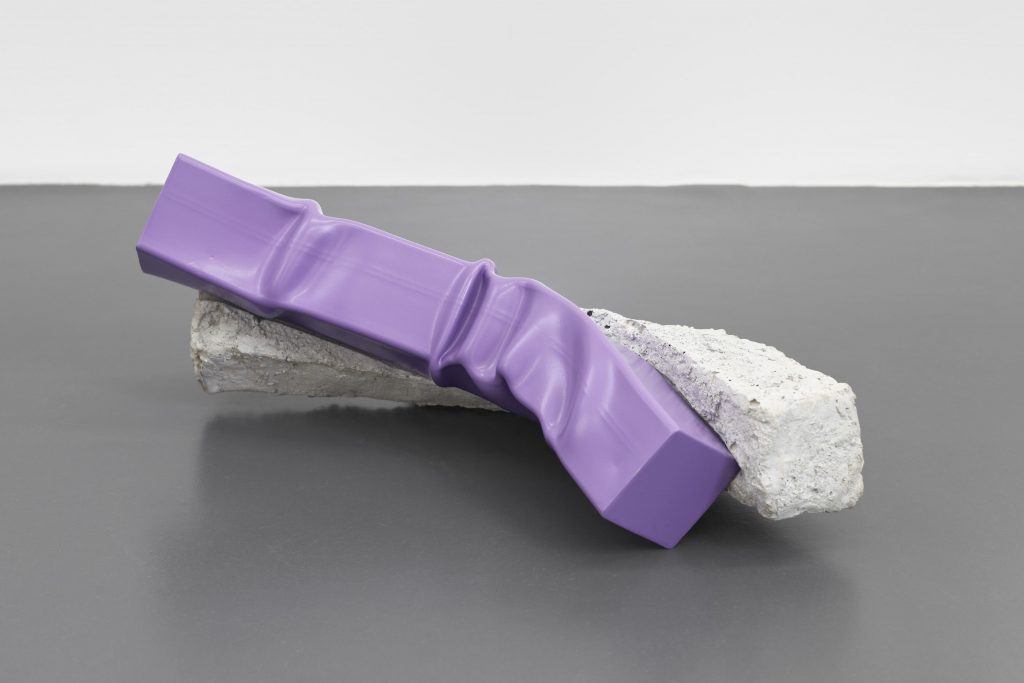 Lisa Tiemann, Couple (O) IV (2022) | Couple (O) V (2023) | Couple (O) VI (2023), SCHWARZ CONTEMPORARY
German artist Lisa Tiemann obtained a degree in fine arts from the Universität der Künste Berlin in 2008, where she studied under British sculptor Tony Cragg. Her sculptures are marked by a certain humor and absurdity. The works from her series "Couples", three of which are shown around the Van Nelle factory, center the relationship between two separate elements, which are made up of different materials. Tiemann uses materials like powder-coated steel, concrete, glazed ceramics and papier-mache for that. Although the forms embrace each other intimately and there is a certain interaction, they remain two distinctive, separate forms in the midst of a dynamic movement. In 2021, Tiemann's work was on display in Temporary Home, as part of the ruruHaus program of documenta fifteen.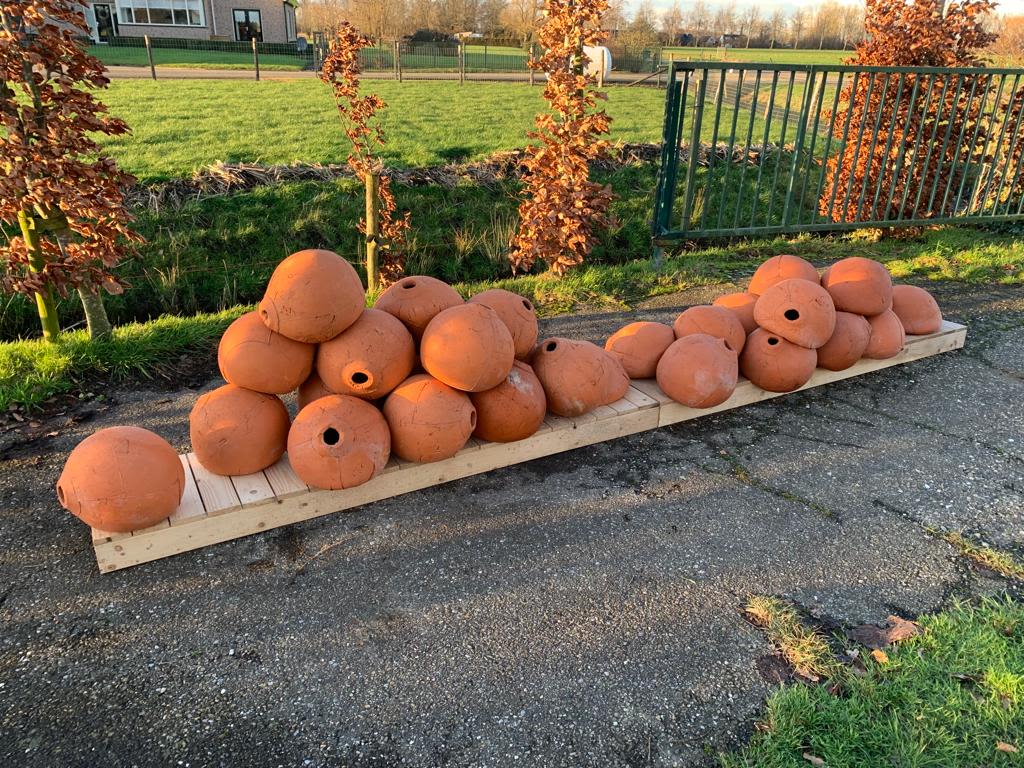 Marinke van Zandwijk, Evolvere (2012), Galerie Franzis Engels
Bubbles play a recurring role in the work of Dutch artist Marinke van Zandwijk. She refers, among other things, to a famous statement by the philosopher Erasmus: 'Homo bulla est', or 'Man is a bubble'. That statement emphasises the volatility and fragility of human life. In Van Zandwijk's work we often see a combination of several bubbles that relate to each other. These bubbles are often shaped in glass, but sometimes also in tin or, as seen here, ceramics. Van Zandwijk is interested in their growth and deformation and the evolution they follow; elaborating on the Latin verb Evolvere, the title of this work. She took these bubbles out of their mold too early, offering them the possibility and time to take on a different shape.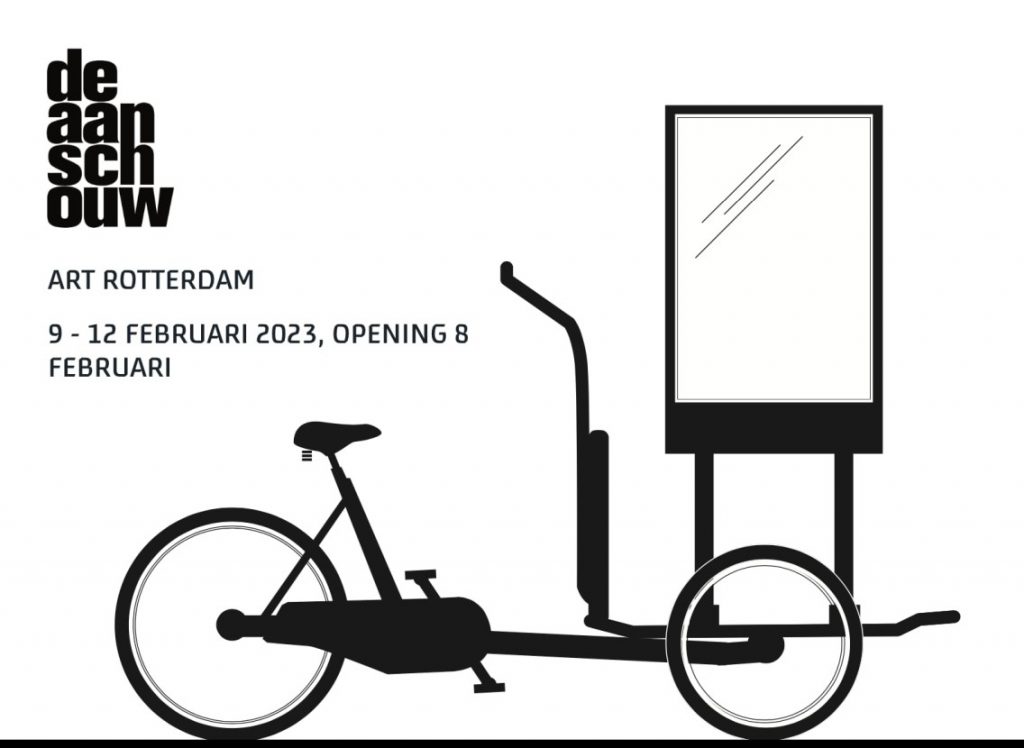 The Behold (De Aanschouw) (2001 – 2023)
The weekly changing art showcase 'De Aanschouw' has been a permanent part of the street scene in the Witte de Withstraat in Rotterdam since 2001. Numerous artists and curators have made a presentation here over the years. Because the adjoining building, café De Schouw, is about to be demolished, the display case is given a new shape: a cargo bike. During Art Rotterdam, various artists will present their work in the new Aanschouw, under the guise 'So you think you can Aanschouw (Behold)'.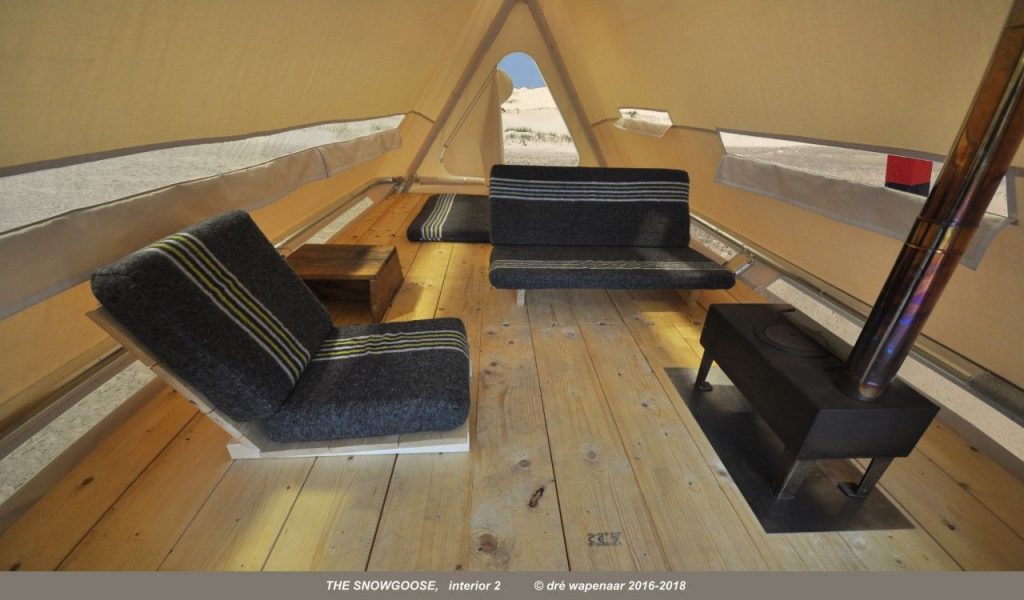 Dré Wapenaar, The Snowgoose (2016-2018), NL = US Art Gallery
The oeuvre of the Dutch sculptor Dré Wapenaar is closely linked to architecture. Monumental tent constructions are a recurring form in his practice, often as a reaction to the urban space. His ecological works often have a very specific purpose and offer space for the human dimension. For example, he designed a tent for sellers of street newspapers and tents that involve death and birth. How do people use the public space and does that space reflect those same people? Wapenaar hopes to start a dialogue between citizens and their city. The title of the work presented at Art Rotterdam refers to a novella by the American writer Paul Gallico from 1941-1942: The Snow Goose.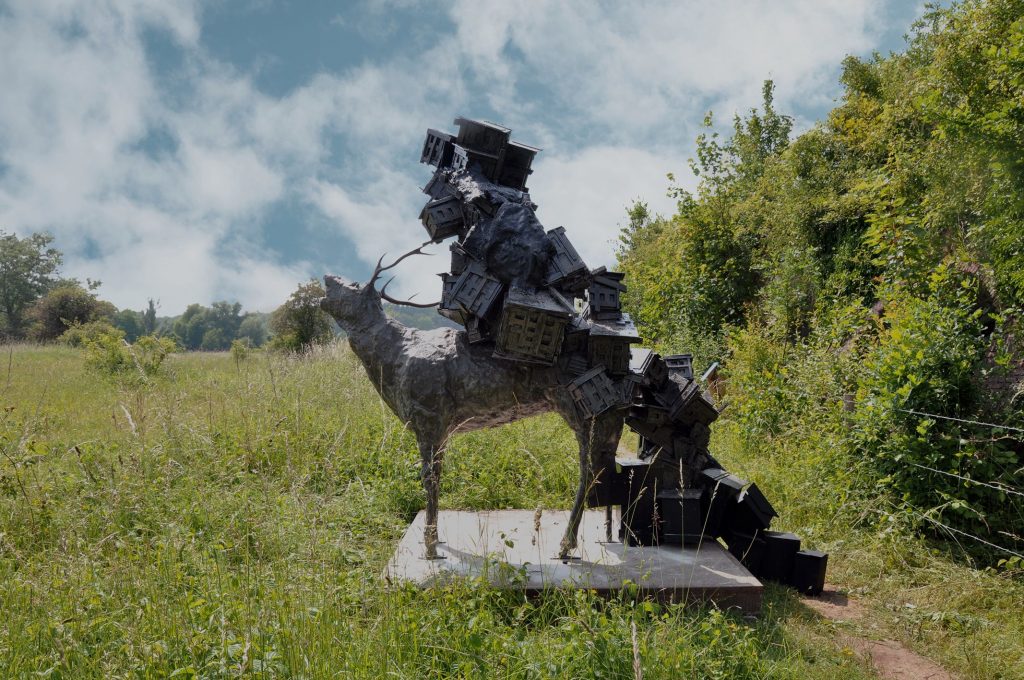 Pim Palsgraaf, Mycelium (2021), NL = US Art Gallery
Culture and nature are juxtaposed in the artistic practice of Dutch artist Pim Palsgraaf — a reflection of the artist's love-hate relationship with the city. His studio is located in the city center of Rotterdam and that is reflected in his works. At Art Rotterdam he will be showing "Mycelium", a life-size deer that is weighed down by what most resembles a series of architectural deformations. It symbolises the ways in which the city and its people take over and dominate nature. The deer is about to collapse under the weight and seems frozen in a cry of pain. Incidentally, the name "Mycelium" refers to the symbiotic way in which fungal networks function. They play an essential role in their local ecosystem, while humans can be seen as a less positive form of proliferation in this context.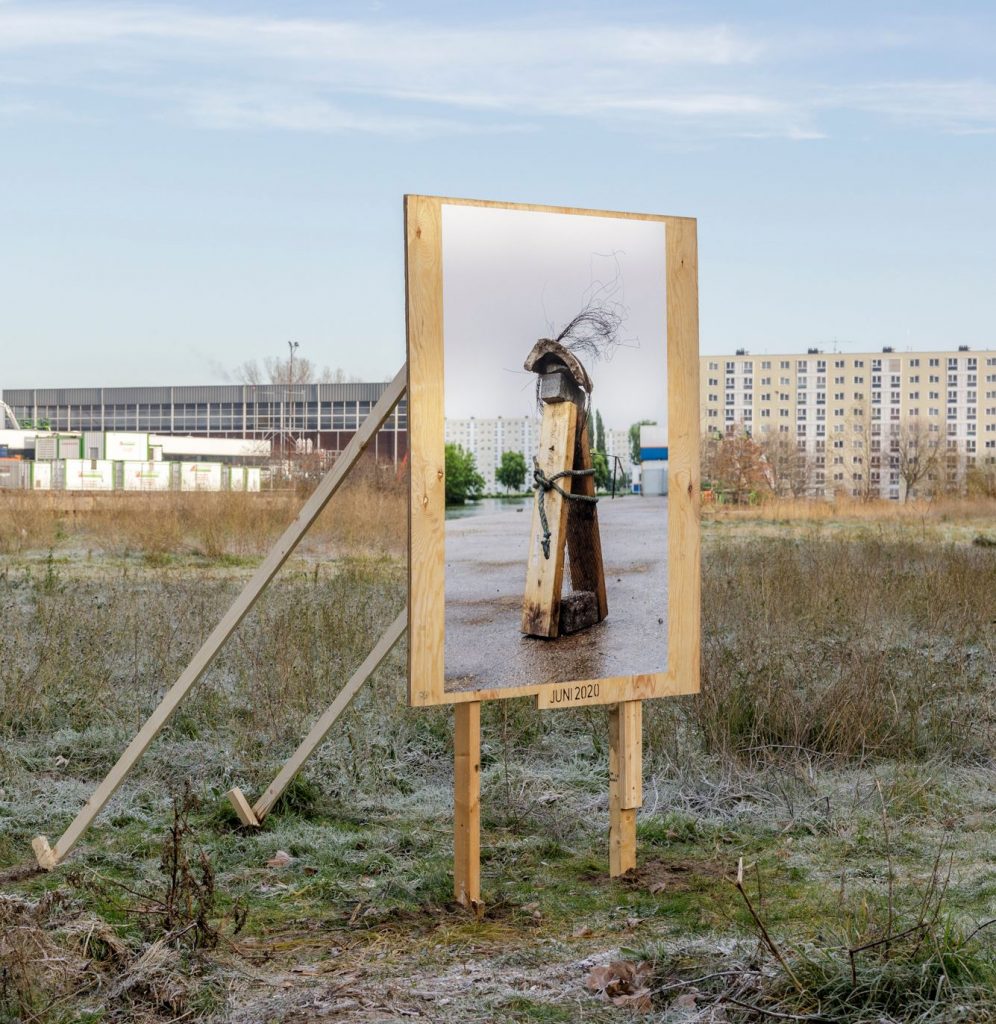 Luuk Smits, As long as it lasts (Zo lang het duurt) (2020/2023), Trendbeheer.com / Art Agent Orange
The Dutch artist Luuk Smits is presenting a series of temporary interventions in the area around the Van Nelle Factory; billboards with photos of previously placed, unsolicited sculptures. Smits is interested in urban and non-urban building materials, materials that are characterised by functionality. In 2020, the artist started the series "As long as it lasts" ("Zo lang het duurt"). It consisted of a series of temporary sculptures from materials that he found in construction containers on the street, thereby posing questions about when something can be considered waste. The installations are characterised by a certain volatility, usually they had a short life due to human intervention or as a result of weather conditions. Then the material would become waste once again. Now, Smits is bringing back the works in the form of billboards, presented on carriers that are also made from found waste materials.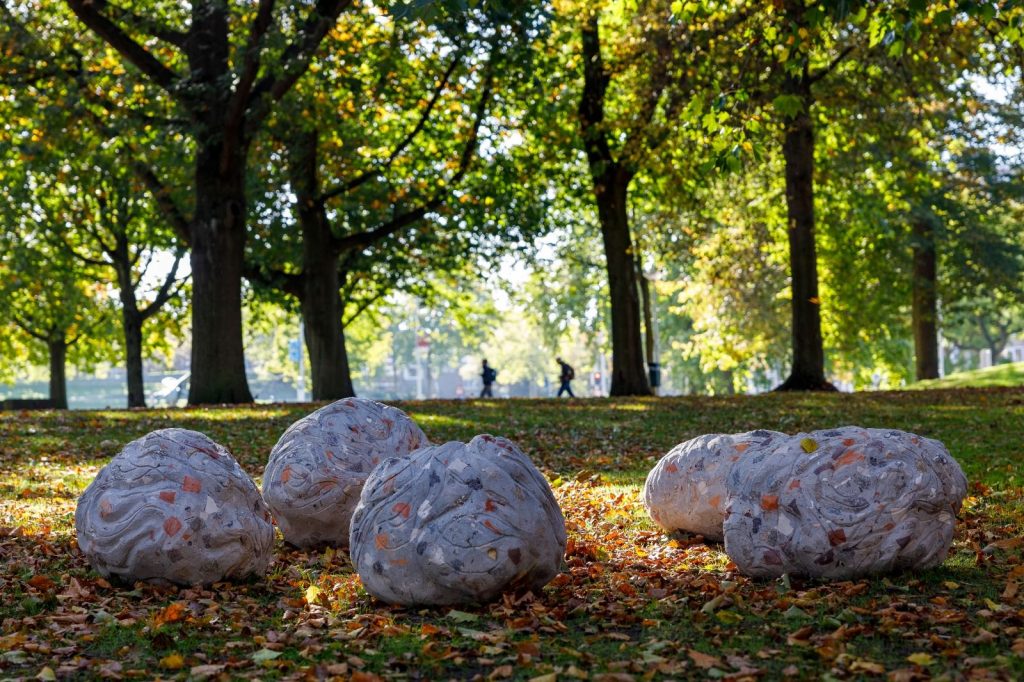 Laura Malpique, Boulders (2022), part of the Mondriaan Fund's Prospects exhibition
In her work, the Portuguese artist Laura Malpique investigates objects and landscapes that are the result of human action. The artist makes landscapes from a wide variety of materials, from construction waste and polyurethane foam to plexiglass and concrete. She is interested in the artificiality of these objects, which sometimes appear quite natural. She hopes to make the viewer aware of that tension and the ways in which people are domesticated by their environment.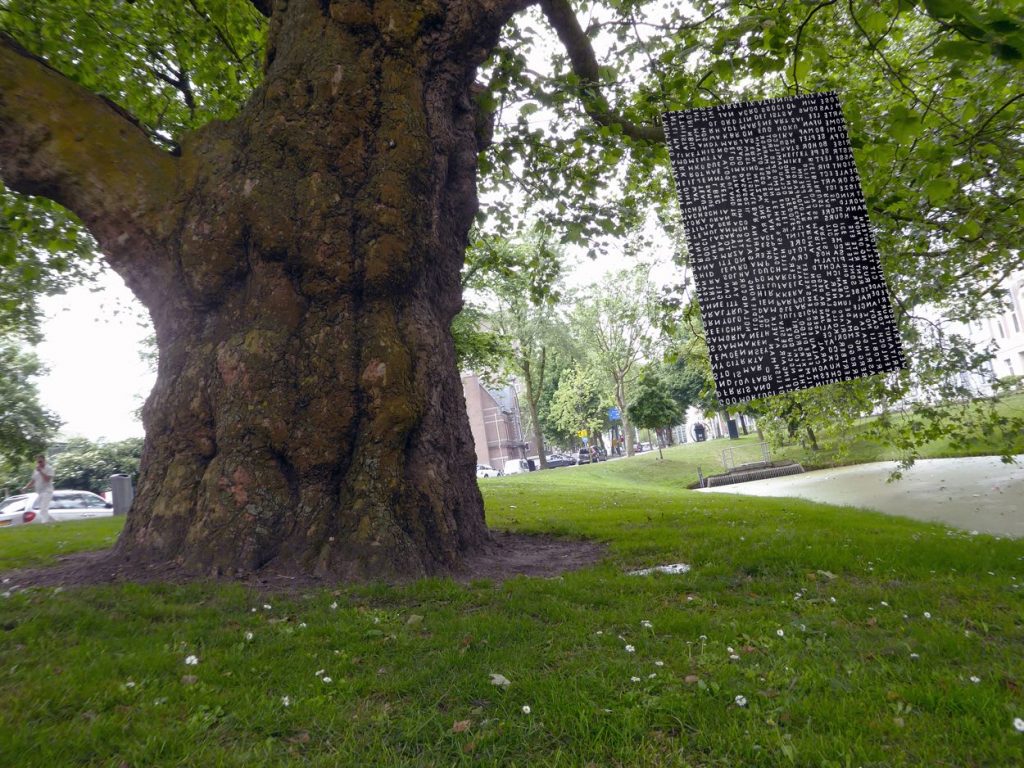 Jan Smejkal, 'text painting', 'text works [tables]' (2016), PHOEBUS Rotterdam
Czech artist Jan Smejkal works in a variety of media, but there are a number of recurring themes in his work, including time and language. In 2016, on the occasion of Poetry International, the artist made a text work with the names of various poets and visual artists. He presented them in a non-traditional context: hanging from a tree like a text sign. Smejkal also made a series of text tables for the occasion. By presenting the work in a surprising context, now also at Art Rotterdam, the viewer is invited to look at it in new ways.
Door Flor Linckens